Posted by Ingrid Bauer, M.D., M.S. & Benjamin Zappin, L.Ac. on Nov 30th 2020
Fire cider (also known as fire tonic or fire brew) is a type of folk remedy made from pungent, immune-supportive herbs and spices prepared with raw apple cider vinegar and honey. Popularized by Rosemary Gladstar in the early 1980s, this spicy brew has been a favorite preparation of herbalists for decades.
However, fire cider came under threat and entered the national spotlight in 2018, when North American herbalists were forced to defend this classic remedy against the company Shire Herbs' attempt to patent and restrict its name and formula for the company's exclusive use. A trial in 2019 finally put the matter to rest, finding for the defenders of fire cider and assuring that this prized folk preparation would remain a "tradition—not a trademark." Soon after, Rosemary published a compendium of 101 fire cider recipes by 70 herbalists.
Fire Cider Benefits
This fiery type of oxymel is a great alternative to alcohol-based tinctures for preserving herbs in a shelf-stable and easy-to-use—not to mention tasty, versatile, and creative—delivery system. Fire cider becomes especially popular during the fall and winter months for a variety of uses: it may be taken daily to warm the body for tonic immune support, or sipped occasionally to reawaken a sluggish digestive system or loosen phlegm in the sinuses and respiratory tracts. Classic fire cider ingredients from Western traditions include ginger, garlic, onions, horseradish, cayenne, turmeric, and many other herbs that support healthy immune, digestive, and respiratory function.
In keeping with the Five Flavors Herbs modality of integrating Western and Eastern therapeutic traditions, we were inspired to apply our knowledge of Traditional Chinese Medicine (TCM) to this classic remedy. According to TCM, the five flavors that characterize our foods and medicines act on our bodies in different ways, and the classic seasoning blend known as "Chinese Five Spice" combines the best of these actions for immune, digestive, and respiratory support—the perfect base for a fire cider.
Chinese Five Spice Recipe & Uses
Traditionally consisting of cinnamon, fennel seed, star anise, cloves, and Sichuan peppercorn, Chinese five spice powder is composed of ingredients that warm the interior and dispel cold.
Cinnamon: Cinnamon bark is ubiquitous worldwide, and studies have documented its benefits for managing inflammation and blood-sugar levels.
Fennel: Renowned for its gas-relieving and digestive support benefits in TCM and Ayurveda, fennel seed is classified as "carminative" in Western therapeutic traditions.
Star Anise: Rich in gut-soothing and lung-supporting essential oils, star anise contains shikimic acid, a component of a common treatment for many winter ailments.
Cloves: Known for their germ-fighting properties, cloves are also often included in natural oral care preparations for sore gums.
Sichuan Peppercorn: Sichuan peppercorns stimulate circulation and leave a spicy, tingly feel in the mouth. Prior to the introduction of the Capsicum species to Asia (e.g., hot and bell peppers), Sichuan peppercorn was an important East Asian culinary ingredient for creating the sensation of heat on the palate and remains central to dishes across China.
Variations of five spice powder may also include anise seeds, ginger root, nutmeg, turmeric, cardamom, licorice root, orange peel, or galangal.
Chinese five spice blends can be found on grocery shelves across the globe and can also easily be made at home. To make five spice seasoning, toast equal parts of the five ingredients in a skillet (cast iron preferred), then grind them into a fine powder (a coffee grinder dedicated to culinary herbs is great for this task). This blend doesn't have to be reserved only for fire cider creations. Use your five spice powder to flavor savory dishes (delicious with meat, beans, or tofu) or incorporate it into sweeter dishes—it adds lovely depth to baked apples or squash.
Chinese Five Spice Fire Cider Recipe
Ingredients
½ cup fresh ginger, chopped
¼ cup fresh turmeric, chopped
¼ cup fresh horseradish root, chopped
¼ cup garlic cloves, chopped
1 cinnamon stick (Ceylon variety, if possible)
3 anise stars
2 Tbsp. fennel seed
5 cloves
1 tsp. Sichuan pepper, crushed
Zest and juice of 1 lemon or ½ orange
Raw apple cider vinegar (enough to cover the ingredients, at least 32 oz.)
Raw, local honey
Directions
Combine all herbs, spices, and vegetables in a half-gallon glass jar.
Top with vinegar until three-quarters full.
Secure lid, shake, and let sit in a warm spot for 3-4 weeks, shaking daily.
Strain out herbs and add honey to taste.
Store in a cool pantry or fridge up to 6 months.
OTHER TCM-INSPIRED FIRE CIDER INGREDIENTS:
Fresh burdock root
Onion
Codonopsis
Licorice root
Wolf berries (Goji berries)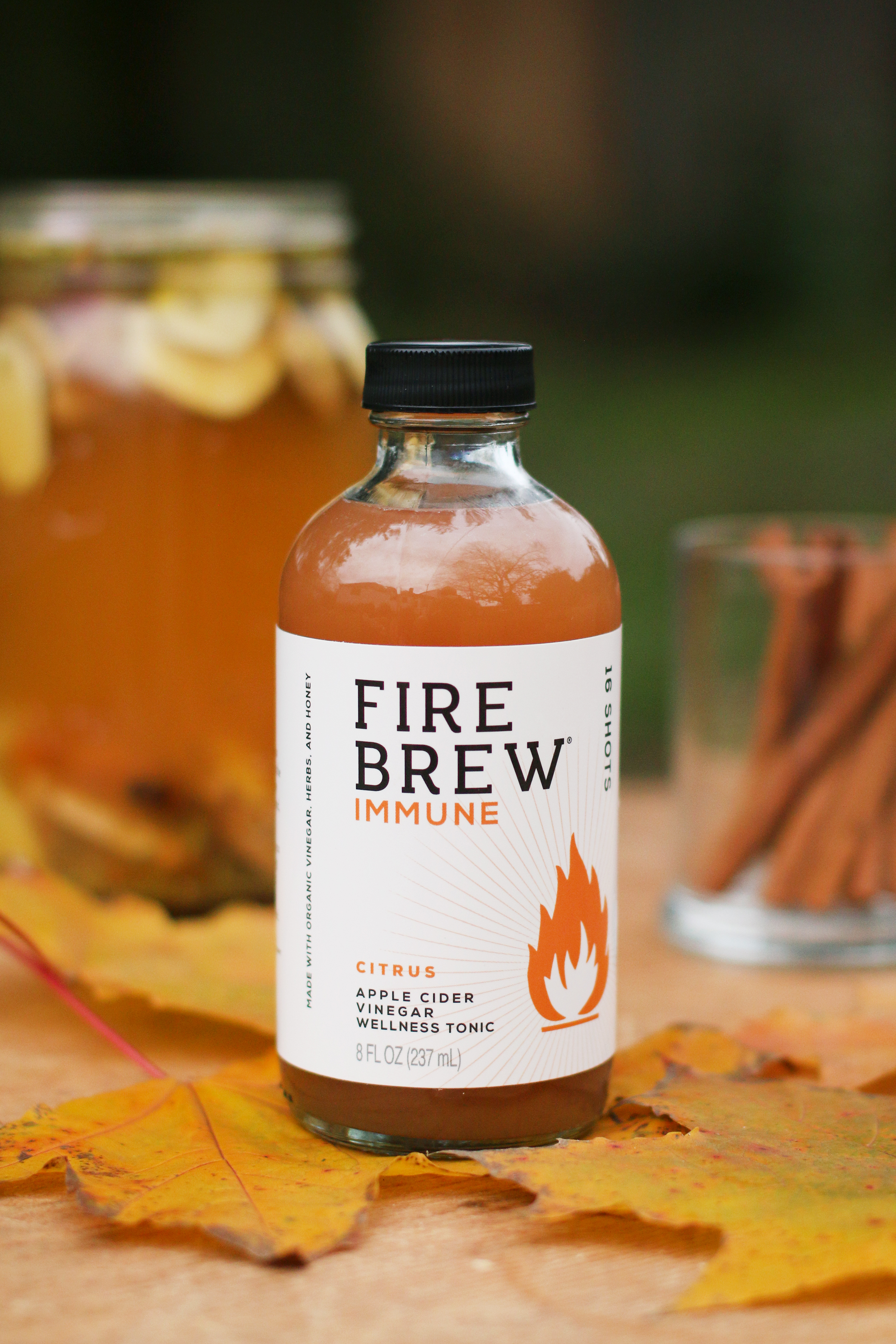 How to Take Fire Cider
If you're feeling chilled, vulnerable, or have a sluggish tummy, consider taking a sip of fire cider before your meal. If you don't like the flavor straight-up, add some to a cup of hot water or tea to boost your defenses, energy, and attitude. If you don't have time or space to make your own, keep a bottle of ready-made Fire Brew on-hand for quick support when you need it!
You might also enjoy:
Written by Ingrid Bauer, M.D., M.S. and Benjamin Zappin, L.Ac.: With experience that bridges Western and Eastern medicine, Ingrid Bauer brings rigorous scientific knowledge to Five Flavors Herbs. A graduate of the UC Berkeley/UCSF Joint Medical Program and the American School of Herbalism in Santa Cruz, California, Ingrid integrates plant-based medicine into mainstream healthcare. She is passionate about bringing holistic care to people from all walks of life. Her master's research focused on Latino health beliefs and traditional medicine at a bilingual clinic in Oakland, California, and she teaches workshops about herbal medicine at conferences and schools. Five Flavors Herbs co-founder Benjamin Zappin is one of the Bay Area's most respected and knowledgeable herbalists and a licensed acupuncturist. With over 20 years of experience, Benjamin synthesizes his deep knowledge of Chinese and western herbal medicine with modern medical perspectives to create effective herbal formulas and treat patients. He serves patients through Paeonia Integrative Medicine.