As long as humans have been gathering and cultivating plants, we have faced the challenge of preserving the harvest. When it comes to medicinal plants, capturing the beneficial properties of these precious healing tools is important in order to have the right remedy on hand when needed! While drying plants for later use was likely the first method of preservation, humans have developed novel ways to extract and store botanicals using oils, honeys, vinegar, and alcohol. These extracts have the additional benefits of drawing out a plant's desirable compounds and providing an easy delivery method that requires no preparation, unlike teas and decoctions, which can be time-consuming to create.
A Brief History of Tinctures
Tinctures—herbal extracts made with ethanol—have been used in European and American herbal traditions for hundreds of years. In the United States and Britain, the Eclectic herbal physicians of the 1800s developed a comprehensive practice of botanical medicine that relied primarily on ethanolic extracts, popularizing the use of tinctures by pharmacists, doctors, and housewives. Tinctures were the primary "drugs" listed in the United States Dispensatory all the way until 1918 (See Remington and Wood's US Dispensatory 20th Ed). It was then that the rise of synthetic drugs and the American Medical Association drove the practice of botanical medicine in the US underground, that is until the late 1960s.
Alcoholic extracts have also played a role in East Asian medicine dating back at least 4,000 years, when medicated wines were brewed for religious ceremonies and medicinal applications. "The Yellow Emperor's Classic of Medicine," the foundational textbook of Traditional Chinese Medicine composed around 200 BCE, includes recipes for medicinal wines for various maladies. While most East Asian remedies are prepared as teas, powders, or tablets today, both folk healers and commercial pharmacies in this part of the world also offer alcoholic extracts, such as the ever-popular tonic liqueur shou wu chih.
How Are Tinctures Made?
The methods for tincture making depend on a number of factors, such as whether the plant matter being used is fresh or dry, aerial parts or roots. The particular compounds targeted for extraction and the percentage of ethanol of the solvent also play a role. Commercial tinctures are usually made with pharmaceutical-grade ethanol, while home medicine-makers often use vodka, brandy, or grappa.
The blend of ethanol plus or minus water is called the menstruum. For a maceration, the menstruum is blended with chopped or ground herbs in a non-corrosive vessel, covered tightly, and soaked for at least two to four weeks. When the plant material appears limp and pale, and the menstruum is brightly colored (green, brown, yellow, red, etc.), the tincture is ready to press, strain, and store in a cool, dark place. The remaining herbal mash, known as the mark, makes great compost! In order to remain shelf stable, a tincture must contain at least 25% ethanol by volume. Occasionally, vegetable glycerine is added at the end to improve the flavor.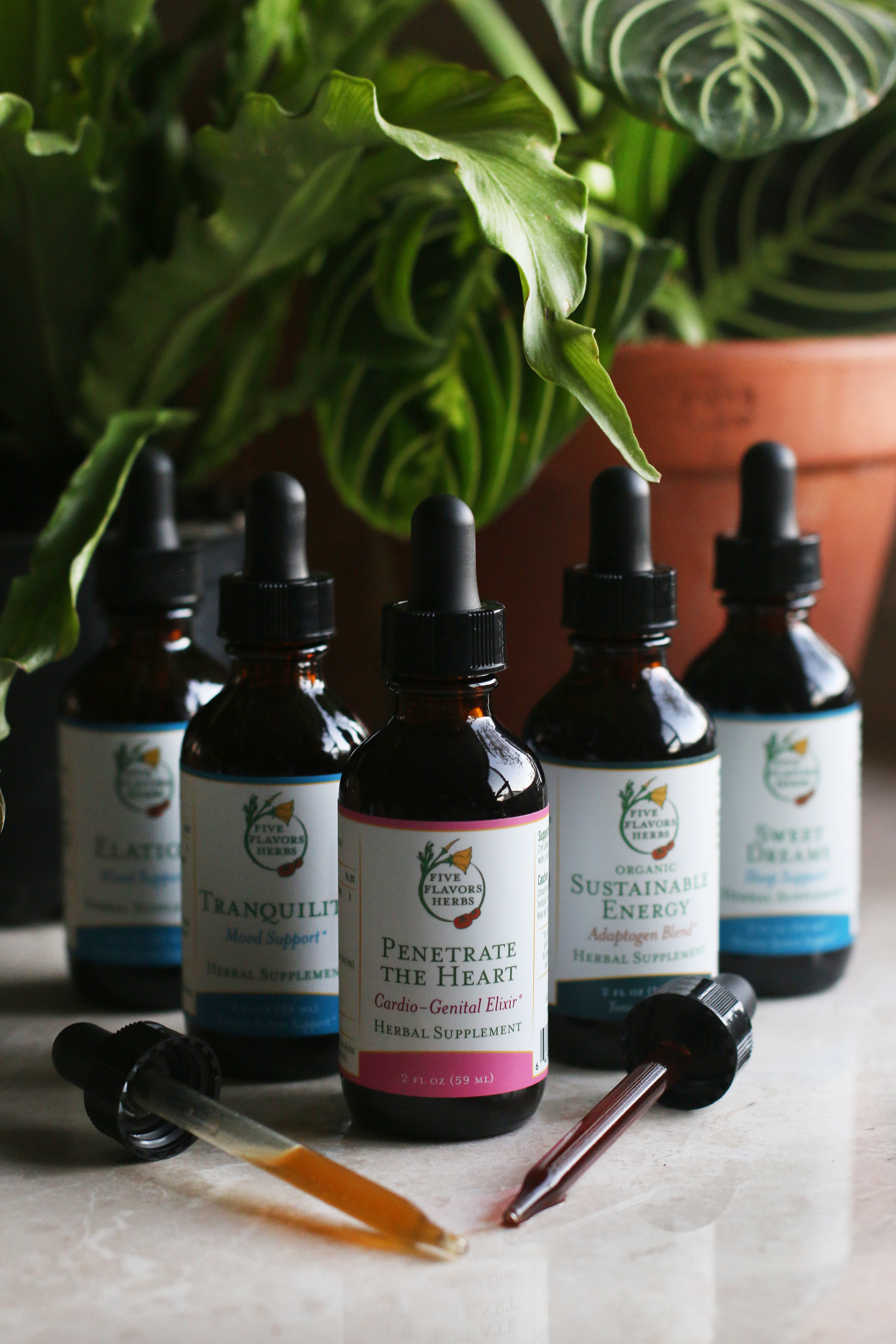 Benefits of Tinctures
When it comes to making or taking herbal medicine, tinctures offer many advantages. Ethanol is an excellent solvent and preservative that is ideal for creating long-lasting and effective remedies. Many of the active constituents in medicinal plants, such as alkaloids, glycosides, phenolics, resins, and terpenes, are readily extracted and preserved in ethanol. Since the fibrous material is removed through pressing or percolating the herb material in the final stage of the tincture-making process, the resulting liquid is a concentrated extract of the medicinal compounds. Shelf stable for at least five years, tinctures can be stored and dosed with ease in small quantities. A 2-oz. (60 mL) bottle of tincture, dosed at two droppersful (2 mL) three times daily, holds 10 days of remedy that can be carried and dispensed anywhere.
Tinctures are quickly absorbed in the mouth and stomach, offering the potential for rapid onset of beneficial effects in many cases. This makes tinctures an ideal delivery method for supporting the nervous system—helping to alleviate difficulties with sleep, discomfort, worry—and the digestive tract, as well as for other situations requiring quick action. Tinctures can also be taken daily to support individuals' long-term health goals.
Not everyone feels comfortable consuming ethanol: children, pregnant women, individuals with a history of alcohol abuse, or those who suffer from stomach upset or liver disease are among these groups. For these individuals, the alcohol can be "steamed off" by simmering in water for five minutes. Alternately, choose a glycerite, oxymel, infused honey, tea, or encapsulated herbal remedy instead!
How to Take Tinctures
Alcohol extracts can be taken quickly and easily, either on their own or diluted in a beverage (Note: tinctures can have a spicy and medicinal taste). The appropriate amount and frequency of a tincture to take will vary with the individual and their health goals, as well as with the herbs involved. That said, there are some general guidelines that may benefit the average adult:
How to Take a Tincture:
Unscrew the lid of your tincture.
Squeeze the rubber top of the dropper and release to fill the glass tube.
Allow the liquid to fill the 2-oz. dropper about half way (1 mL).
Squeeze the liquid directly in your mouth or into a small amount of water, juice, or tea and drink.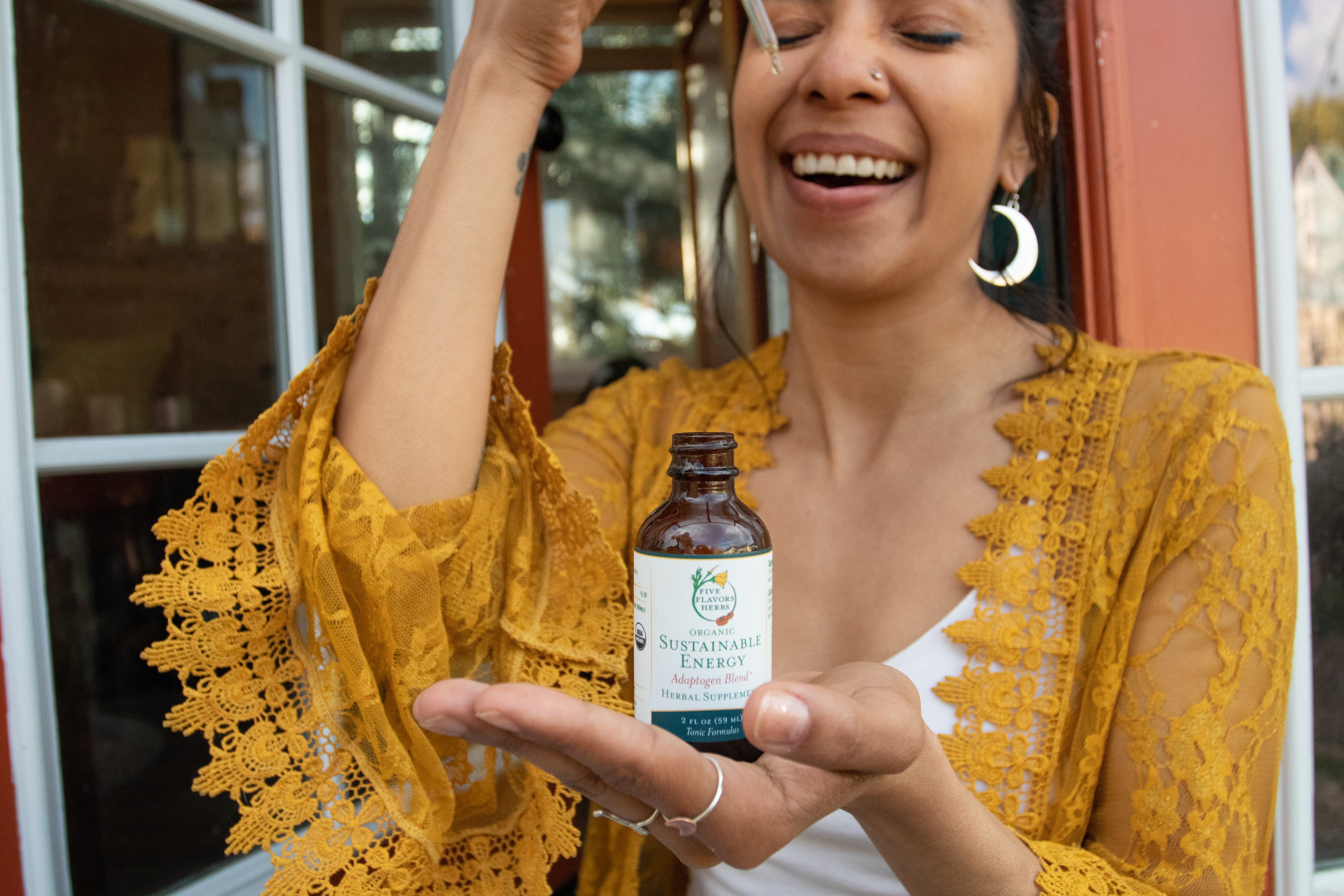 Tincture Dosage:
Typical dosage for an average, adult range from 1-5 dropperfuls (not drops), one to four times per day. Exact dosage is recommended on the bottle, by an herbalist or other qualified healthcare professional (1 dropperful =~1 mL).
Top Herbal Tinctures for Wellness
At Five Flavors Herbs, we have been making our own tinctures since 2004. From humble beginnings in our kitchen to an FDA-registered lab following Good Manufacturing Practices for dietary supplements, we still use time-tested recipes to produce high-quality botanical extracts. In addition to single herb tinctures and a line of proprietary tincture formulas, we also make a line of traditional Chinese liquid extracts using a combination of tincturing and maceration to increase the concentration of botanicals for enhanced therapeutic benefit, as well as offering custom formulations and private label tincture-making services.
Some of our most popular tincture formulas include:
For practitioners of Traditional Chinese Medicine, we invite you to incorporate the use of liquid extracts in your clinical practice to improve adherence to your treatment regimen. If you support patients with fertility goals, also consider our Conceivable Proline liquid extracts for optimizing reproductive health.
Sources:
Chinese Medicinal Wines & Elixirs, by Bob Flaws, Medical Herbalism, by David Hoffman, The Herbal Medicine-Maker's Handbook, by James Green, Southwest School of Botanical Medicine
You might also enjoy: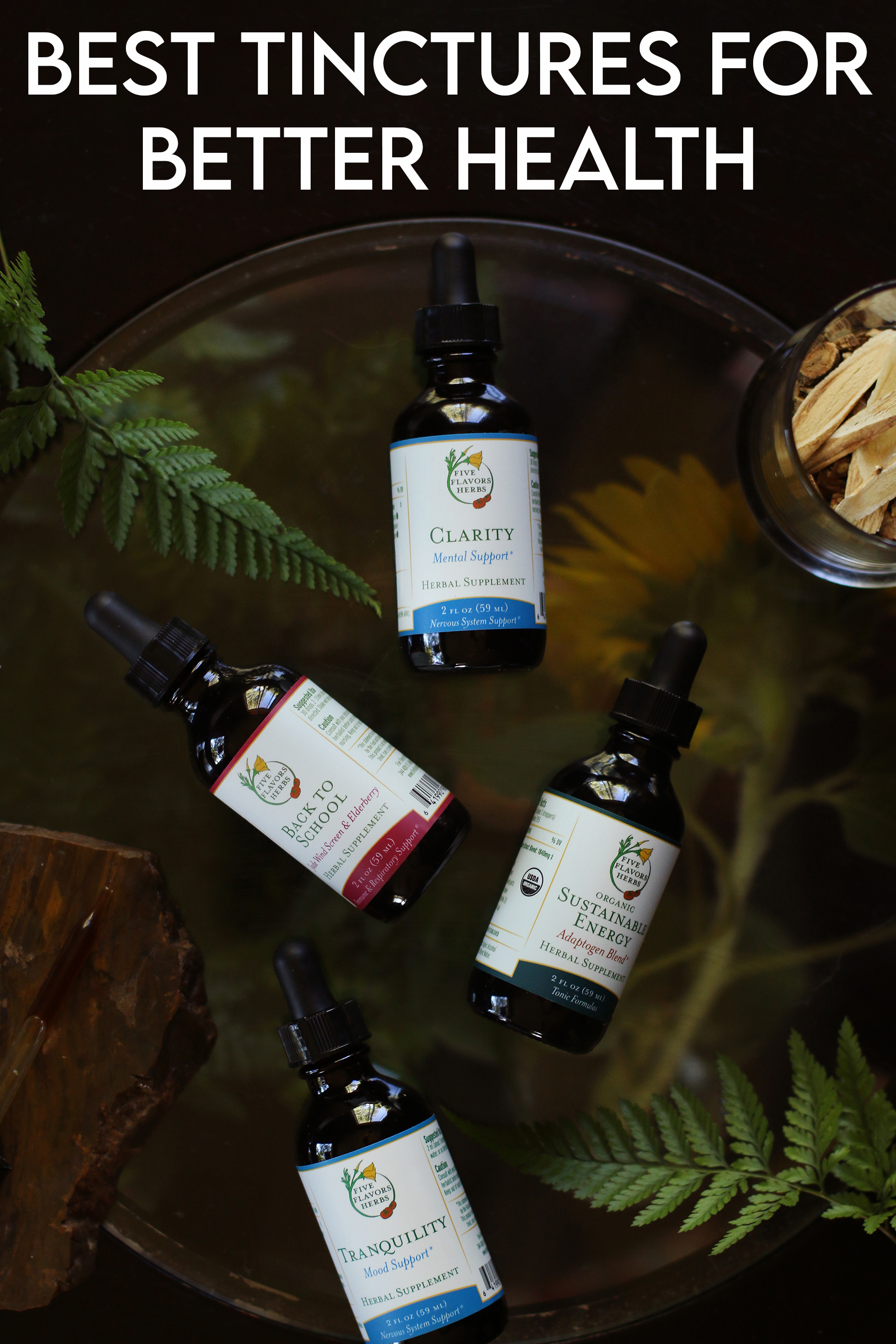 Written by Ingrid Bauer, MD, MS: With experience that bridges Western and Eastern medicine, Ingrid brings rigorous scientific knowledge to Five Flavors Herbs. A graduate of the UC Berkeley/UCSF Joint Medical Program and the American School of Herbalism in Santa Cruz, CA, Ingrid integrates plant-based medicine into mainstream healthcare. She is passionate about bringing holistic care to people from all walks of life. Her master's research focused on Latino health beliefs and traditional medicine at a bilingual clinic in Oakland, CA, and she teaches workshops about herbal medicine at conferences and schools.