Posted by Jules Benefico, Certified Clinical Herbalist on Oct 13th 2020
Medicinal mushrooms are powerful allies for our immune, nervous, and endocrine systems, and their benefits don't stop there: they can support memory, bolster energy levels, provide revitalizing antioxidants, and may fight off an array of health concerns. In California, the rainy season starts in November, setting off our first seasonal flushes of wild mushrooms across the newly dampened forest floor. Autumn's cooler weather also inspires us to warm up from the inside out with delicious spiced drinks, and it just so happens that the earthy flavor of mushrooms perfectly complements many classic cold weather recipes.
Medicinal Mushroom Benefits
Mushrooms have long been used in Traditional Chinese Medicine (TCM) and other natural therapeutic systems, but in recent years, they have also become more widely appreciated in modern Western culture. Some of the most popular and celebrated medicinal mushrooms are:
Lion's Mane Mushroom: Offers nerve and brain support
Turkey Tail Mushroom: May stimulate and improve immune function
Cordyceps: Taken for lung support and enhanced vitality
Chaga Mushroom: Found to aid digestion and clear up skin
Maitake Mushroom: Supports healthy blood pressure levels
Reishi Mushroom: Adaptogen that aids immune function, protects the liver, and helps maintain healthy energy levels (more on these below!)
All of these mushrooms above can be found in Stamets 7 Mushroom Mycelium Powder and MyCommunity Mushroom Extract, two favorite ingredients of ours that you'll find in the mushroom drink recipes below!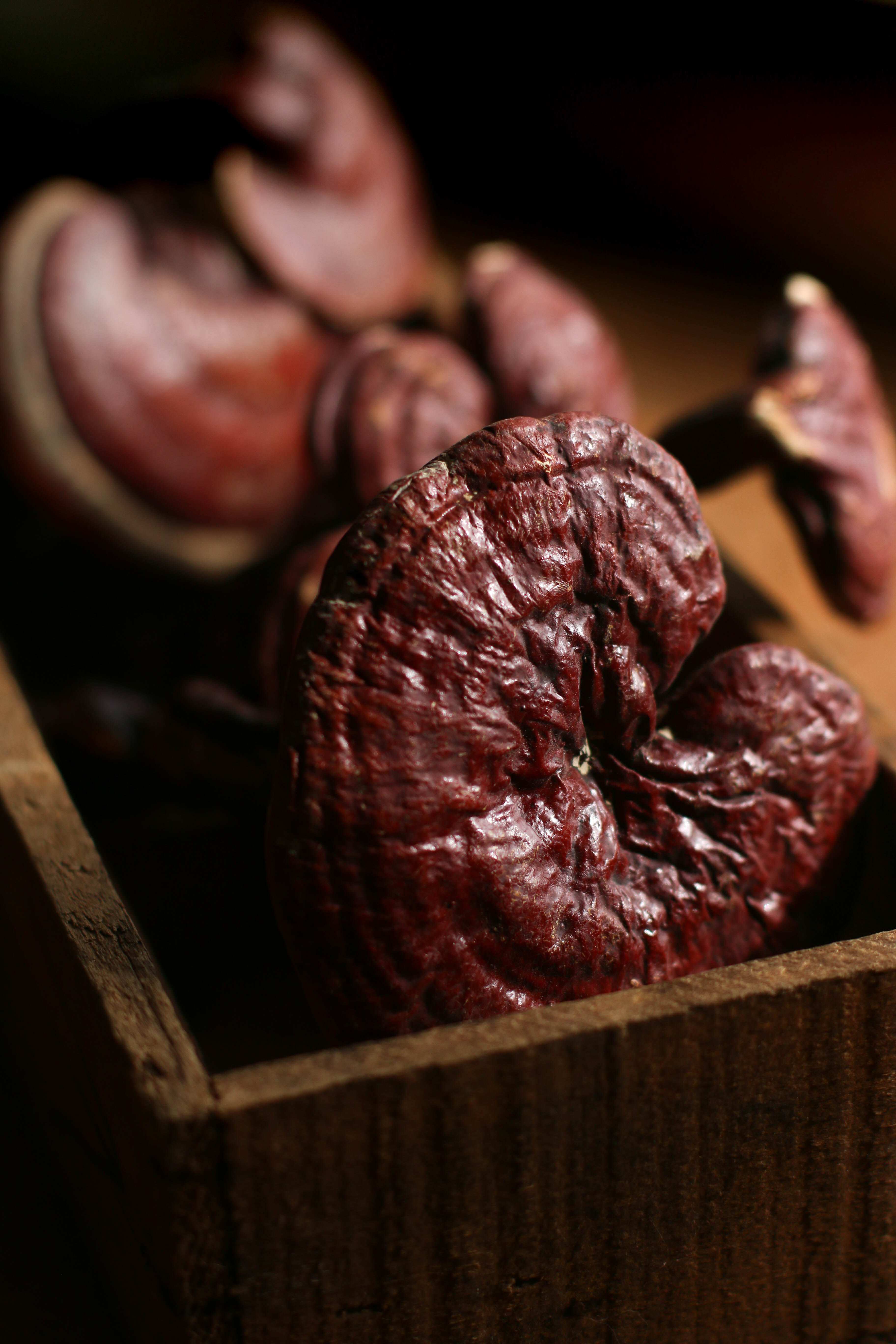 Reishi Mushroom Benefits
While we have immense respect for all medicinal mushrooms here at Five Flavors Herbs, reishi holds a special place in our hearts—and in our logo. Reishi (Ganoderma lucidum and many other species) is a prized mushroom throughout Asia. Called ling zhi in TCM, which loosely translates to "divine," "auspicious," or "supernatural" mushroom, it is known as the "herb of spiritual potency and essence of immortality." Used for over 2000 years in East Asian medicinal traditions, reishi mushrooms became ubiquitous in Asian art around 1400 CE, and they remain a common symbol of health, longevity, wisdom, and spiritual development.* Reishi's TCM actions are to nourish the Heart and calm the Spirit; stop cough & wheezing; and to tonify Blood and qi.
At Five Flavors Herbs, we chose reishi in our logo, intertwined with our local California poppy—which also exerts a calming effect on the mind—to evoke the yin-yang symbol of dualism in Taoist philosophy, demonstrating the fluid interdependence of opposites to create balance and harmony, sustaining the body for optimal wellness and long life.
3 Fall Drink Recipes with Mushrooms
Adding beneficial fungi to our favorite fall beverages is an easy way to enjoy a tasty, healthy boost of mushroom magic in each sip. Here are three of our favorites!
Reishi Hot Cocoa Recipe
We look to this hot chocolate recipe in the fall to nourish and revitalize the lungs in the wake of the dry air and the smoke of the West Coast fire season, and simply to warm the spirit on cold autumn evenings. This delectable beverage is powered by reishi mushroom, which has been revered for centuries for its immune supporting and adaptogenic properties. Prepared as a tea or taken as a concentrated extract, reishi rapidly calms the spirit while working more slowly at deeper levels to tonify the body. It has a rich flavor not unlike chocolate and is a wonderful addition to this warming winter libation.
Ingredients
2 tsp. reishi powder (or Stamets 7 powder for a multi-mushroom boost)
2 Tbsp. cacao powder
1.5 cups nut milk of choice
1-2 Tbsp. coconut sugar
Dash of nutmeg
1 tsp. maca powder
1 Tbsp. of almond butter (optional)
Directions
Combine all ingredients (except almond butter) in saucepan and whisk until well-blended.

Simmer on stove, stirring often until warm (3 to 5 minutes).
Transfer liquid to blender, add almond butter, and blend for 30 seconds until frothy.
Pour into mug and enjoy!
Pumpkin Pie & Fungi Smoothie Recipe
Pumpkin pie is the quintessential fall dessert, but it is usually made with processed sugar, gluten, and dairy. This smoothie recipe is a healthier alternative that includes Mycommunity Extract, a liquid extract that incorporates 17 medicinal mushrooms to encourage optimal immune function and energy levels. Pumpkin is also loaded with benefits of its own, such as iron, potassium, fiber, and beta carotene, making it the perfect base for an autumn smoothie. This autumn beverage will be loved by the whole family and is wonderful for fueling cool weather hikes or as a tasty late night snack!
Ingredients
Directions
Combine all ingredients in blender and mix until smooth.

Pour into glass and enjoy!
Adaptogenic Rhodiola Mushroom Chai Recipe
This fragrant spiced chai blend is robust in flavor and beneficial properties. Rhodiola is an adaptogenic root that has been used in northerly and high-altitude regions across the world to uplift the mood and energy levels. When combined with the Stamets 7 mushroom powder's immune, digestive, and nervous system support and aromatic chai spices, and you get a complex and broadly healthful beverage that invigorates the senses and warms the body on a cool autumn day.
Ingredients
Directions
In heat-safe pot, bring water to a boil on stove, add chai, and simmer for 10 minutes on low.

Strain through a fines mesh strainer and return liquid to pot.
Whisk in coconut milk and mushroom blend and simmer 5 more minutes, stirring regularly.
Remove from heat, add sweetener, and stir to combine.
Transfer to blender or use an immersion blender to froth, if desired.
Pour into 2 mugs and enjoy!
You might also enjoy:
Written by Jules Benefico: Jules Benefico is a Clinical Western Herbalist and the Retail Manager at Five Flavors Herbs. She studies medical astrology, western alchemy, and clinical nutrition and infuses this into her herbal practice.