Posted by Ingrid Bauer, MD, MS on Feb 22nd 2021
In recent years, Ashwagandha ( Withania somnifera) has emerged as one of the most popular herbs in the natural products space. A member of the nightshade family, the dried and powdered roots have been used in Ayurvedic, Unani, and sub-Saharan African traditions for millennia as "rasayana" (rejuvenator) for a plethora of applications, including sleep difficulties, debility, reproductive health, skin and digestive conditions, joint pain, and immune support. Named after the Sanskrit words ashva ("horse") and gandha ("smell"), ashwagandha root does impart a strong scent as well as the strength and vitality of the magnificent animal. Traditionally consumed as a fine powder mixed with water, milk, ghee, or honey, ashwagandha is generally considered safe for children, adults and elders alike with only a few specific exceptions (see "Dosage, Safety & Side Effects" below).
Ashwagandha Root Benefits
Popularized in recent years as an "adaptogen," ashwagandha certainly rises to the occasion. "Adaptogen" is a modern Western herbal term that emerged from Soviet research in the 1970s describing botanicals that promote resilience to stress, normalize physiologic functions in the body, and are safe to use long-term. Ancient tonic herbs such as Panax ginseng, eleuthero, and rhodiola were some of the first adaptogens to earn this appellation, and recent additions include ashwagandha, holy basil, licorice, and schisandra berry. These herbs are believed to act upon the hypothalamic-pituitary-adrenal axis to modulate cortisol production, facilitating a healthy stress response, blood sugar levels, and sleep-wake cycles.
ASHWAGANDHA FOR STRESS RELIEF & SLEEP
Ashwagandha makes such a wonderful adaptogen because it strikes a balance between relaxing and energizing. Many studies demonstrate the benefits of ashwagandha consumption for stress relief. While it does not cause drowsiness on its own, ashwagandha can be combined with soporific herbs like hops and valerian to help us sink into sleep. Rather than signaling the body to push through and override stress, ashwagandha supports our ability to relax and let go of worry so that we can get natural, recuperative rest and wake up refreshed. A warm cup of ashwagandha-infused "moon milk" before bed is a delicious and gentle way to ease into a good night's sleep (keep reading for two tasty moon milk recipes!).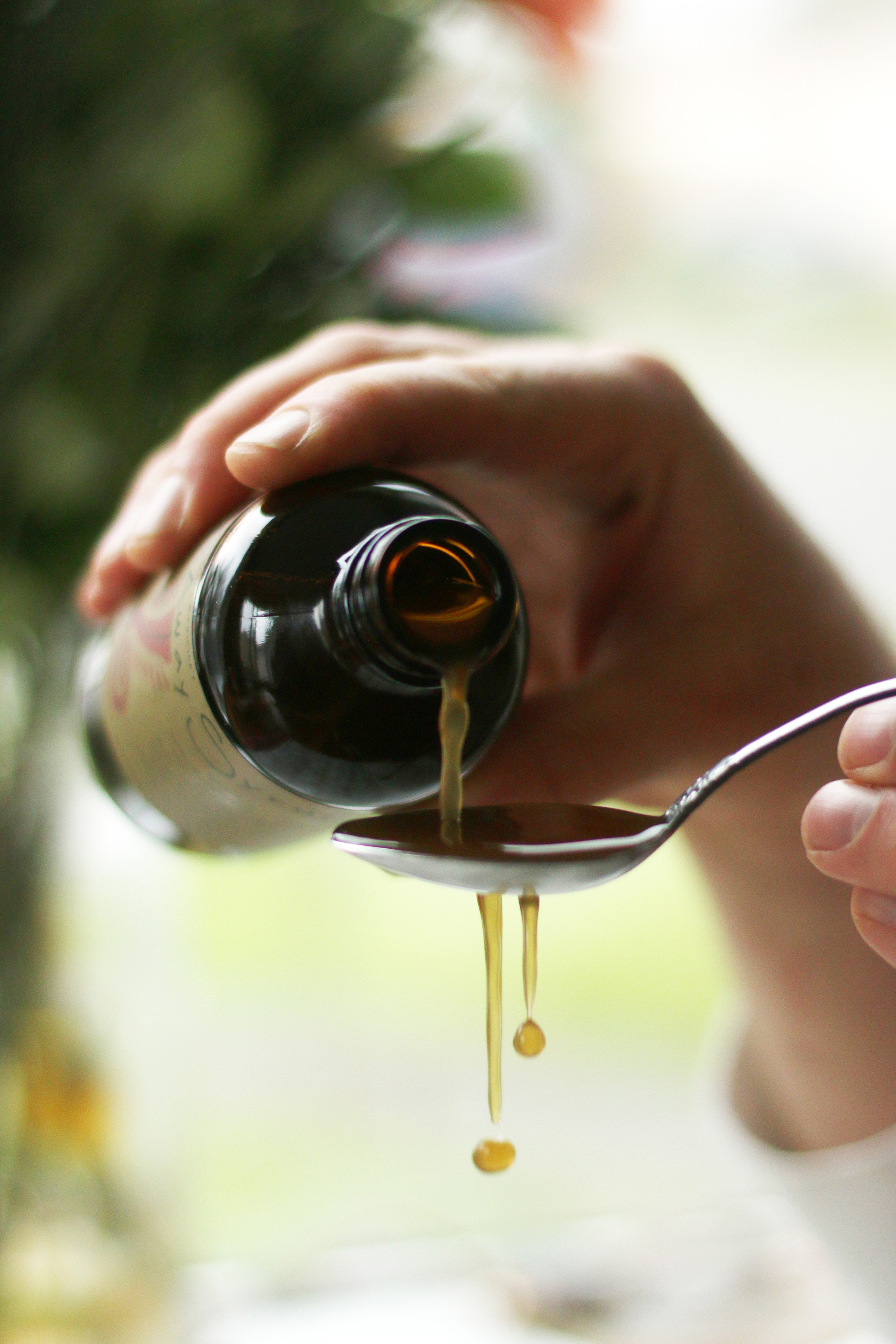 ASHWAGANDHA FOR ENERGY & STAMINA
Ashwagandha can also be taken during the day with energizing herbs like eleuthero and rhodiola (as in our Sustainable Energy adaptogen tincture) to promote focus, calm, and energy without the buzz of caffeine. Ashwagandha has historically been used for recovering from illness and promoting vitality, and modern research confirms its ability to improve physical endurance. A study of 50 healthy athletes demonstrated that ashwagandha improved athletic performance indicators such as oxygen-carrying capacity, muscle strength, and exercise endurance in those treated with doses up to 1250 mg per day. Whether you are running a marathon on the road, in the office, or as a caregiver, ashwagandha provides the support we all need to strive under mental, emotional, and physical stress.
ASHWAGANDHA FOR INFLAMMATION & THE IMMUNE SYSTEM
Another set of ancient applications of ashwagandha—alleviating painful joints, promoting resilience, and fighting germs—is being born out in contemporary research on the modulating effects of ashwagandha for the immune system. Increasingly, scientists are discovering that many chronic conditions, including autoimmune diseases, cardiovascular disease, degenerative neurological conditions, diabetes, and cancers result from persistent inflammatory states. While ashwagandha has not been proven to prevent or treat any of these diseases, in vitro and animal studies suggest that active constituents found in ashwagandha (such as withaferin) may tone-down inflammatory signal proteins and protect against oxidative stress. Ashwagandha has also been shown to promote red and white blood cell production. These same properties contribute to ashwagandha's benefit in acute illnesses and in recuperating afterwards. Ashwagandha thus combines well with other powerhouse herbs like turmeric and ginger to soothe aches and support a healthy immune response.
ASHWAGANDHA FOR SEXUALITY
Traditionally known as a sexual tonic for men, ashwagandha has an equally beneficial influence on femenine sexuality. In addition to generally improving strength and endurance, the stress-relieving benefits of ashwagandha likely help us relax enough to enjoy sensuality—a state of mind and mood which can be difficult when we are worried and depleted. Stress can also impact men's fertility, and studies suggest that ashwagandha may combat the impact of stress on sperm quality. So whether you are trying to conceive or just need some support in feeling more sexy, consider blending ashwagandha with other romance-enhancing herbs like damiana and epimedium.
Ashwagandha Dosage, Safety & Side Effects
Traditional doses of dry ashwagandha root powder range from 250 mg to 1000 mg daily, and studies have shown safety of these amounts when taken for up to 12 weeks. Major constituents in ashwagandha root include steroidal lactones (known as withanolides) and alkaloids. Some products are standardized to a percentage of withanolides. The exact mechanism of metabolism is not well known. Side effects are rare but may include GI upset or skin rash. Five case reports of liver injury were resolved by discontinuing use of the supplement and did not result in long-term damage.
Ashwagandha is considered safe for a wide range of individuals, but it may not be appropriate in some cases. In general, ashwagandha should be avoided by those who are pregnant. Due to its immune-enhancing effects, individuals taking immunosuppressant drugs like cyclophosphamide should avoid ashwagandha. Because ashwagandha may boost thyroid function, it should be used with caution in individuals with hyperthyroidism or those who take thyroid hormone replacement.
Because ashwagandha is relaxing, it could hypothetically interact with medications for sleep or anxiety, though this has not been demonstrated in any studies. It is also possible that ashwagandha might interact with medications that lower blood sugar and blood pressure.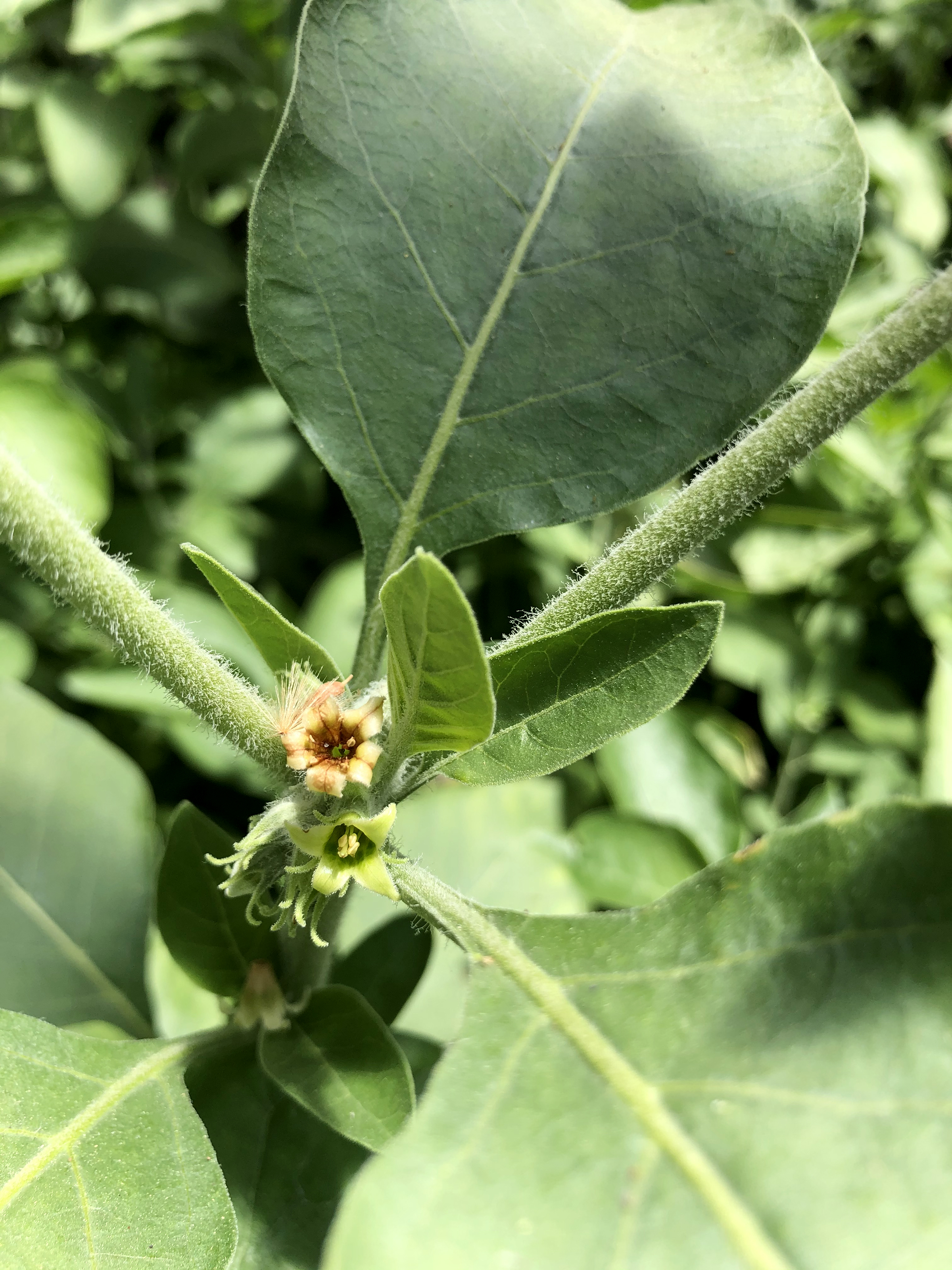 Growing Ashwagandha Plants
Ashwagandha is related to tomatoes, though its red fruits are not edible. It needs a greenhouse to survive the winter months in cold climates, whereas it grows naturally year-round in its native tropical climate. It is easy to grow from seed—simply transplant two-month-old plants about one foot apart into deep, loamy soil where the roots can grow unhindered. Water consistently but not excessively, keeping the ground moist around each plant, and side dress with organic compost one to two times during the season if the plant is not growing vibrantly. Each plant will grow to approximately one foot wide by two feet tall. The roots can be harvested after approximately one year, or after the plant has gone to seed.
Ashwagandha Moon Milk Recipes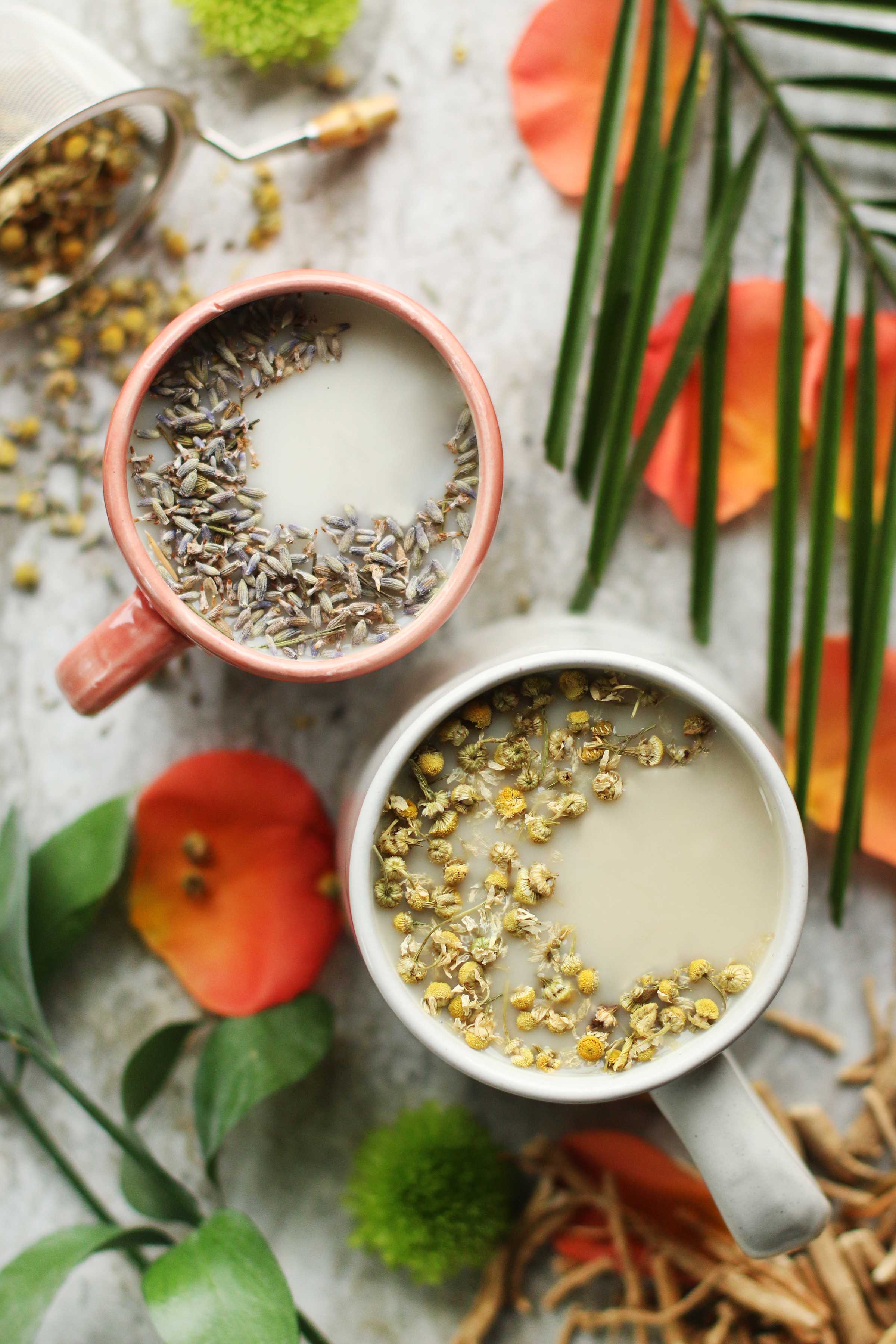 MOONLIT MOON MILK FOR SLEEP
Makes 2 servings.
Ingredients
1 cup water
1 tsp. lavender flowers
1 Tbsp. chamomile flowers
1 cup milk of choice (dairy, coconut, almond, hemp, etc.)
1 Tbsp. ashwagandha powder
Honey, agave syrup, or other sweetener, to taste
Directions
Bring water to boil, remove from heat.
Add lavender and chamomile to hot water, cover, and let steep five minutes.
Strain out and compost flowers, set liquid aside.
In a separate small saucepan, gently heat milk (do not boil) and add ashwagandha powder, whisking out any lumps until fully dissolved.
Combine infused water and milk mixture, and whisk in sweetener. Serve warm.
MOONSTRUCK "MILK"-TAIL RECIPE FOR ROMANCE
Makes 2 servings.
Ingredients
2 cups milk of choice (dairy, coconut, almond, hemp, etc.)
2 Tbsp. ashwagandha powder
Maple syrup, to taste
Directions
In a small saucepan, gently heat milk (do not boil) and add ashwagandha powder, whisking out any lumps until fully dissolved.
Stir in tincture and maple syrup until dissolved.
Consider topping with powdered cardamom and extra foam. Serve warm in a romantic setting.
If you're stressed and overwhelmed, consider supporting your whole system with this gentle tonic. Remember, choose organic and domestically grown whenever possible and make sure to buy your herbs from a trusted source, or grow your own!
You might also enjoy:
Written by Ingrid Bauer, MD, MS: With experience that bridges Western and Eastern medicine, Ingrid brings rigorous scientific knowledge to Five Flavors Herbs. A graduate of the UC Berkeley/UCSF Joint Medical Program and the American School of Herbalism in Santa Cruz, CA, Ingrid integrates plant-based medicine into mainstream healthcare. She is passionate about bringing holistic care to people from all walks of life. Her master's research focused on Latino health beliefs and traditional medicine at a bilingual clinic in Oakland, CA, and she teaches workshops about herbal medicine at conferences and schools.
Citations:
American Herbal Pharmacopoeia. Ashwagandha Root (Withania somnifera): Analytical, quality control and therapeutic monograph. Eds Roy Upton et al. 2000, Santa Cruz, CA
Ashwagandha‐induced liver injury: A case series from Iceland and the US Drug‐Induced Liver Injury Network—Björnsson—2020—Liver International—Wiley Online Library. (n.d.). Retrieved February 7, 2021, from https://onlinelibrary.wiley.com/doi/abs/10.1111/liv.14393
Choudhary, B., Shetty, A., & Langade, D. G. (2015). Efficacy of Ashwagandha (Withania somnifera [L.] Dunal) in improving cardiorespiratory endurance in healthy athletic adults. Ayu, 36(1), 63–68. https://doi.org/10.4103/0974-8520.169002
Committee on Herbal Medicinal Products. Reflection Paper on the Adaptogenic Concept. European Medicines Agency, London, July 2007. https://www.ema.europa.eu/en/documents/scientific-guideline/draft-reflection-paper-adaptogenic-concept_en.pdf
Dar, N. J., Hamid, A., & Ahmad, M. (2015). Pharmacologic overview of Withania somnifera, the Indian Ginseng. Cellular and Molecular Life Sciences: CMLS, 72(23), 4445–4460. https://doi.org/10.1007/s00018-015-2012-1
Dongre, S., Langade, D., & Bhattacharyya, S. (2015). Efficacy and Safety of Ashwagandha (Withania somnifera) Root Extract in Improving Sexual Function in Women: A Pilot Study. BioMed Research International, 2015. https://doi.org/10.1155/2015/284154
Gannon, J. M., Forrest, P. E., & Roy Chengappa, K. N. (2014). Subtle changes in thyroid indices during a placebo-controlled study of an extract of Withania somnifera in persons with bipolar disorder. Journal of Ayurveda and Integrative Medicine, 5(4), 241–245. https://doi.org/10.4103/0975-9476.146566
Logie, E., & Vanden Berghe, W. (2020). Tackling Chronic Inflammation with Withanolide Phytochemicals—A Withaferin A Perspective. Antioxidants, 9(11). https://doi.org/10.3390/antiox9111107
Lopresti, A. L., Smith, S. J., Malvi, H., & Kodgule, R. (2019). An investigation into the stress-relieving and pharmacological actions of an ashwagandha (Withania somnifera) extract. Medicine, 98(37). https://doi.org/10.1097/MD.0000000000017186
Mahdi, A. A., Shukla, K. K., Ahmad, M. K., Rajender, S., Shankhwar, S. N., Singh, V., & Dalela, D. (2011). Withania somnifera Improves Semen Quality in Stress-Related Male Fertility. Evidence-Based Complementary and Alternative Medicine : ECAM, 2011. https://doi.org/10.1093/ecam/nep138
Mishra, L.-C. (2000). Scientific Basis for the Therapeutic Use of Withania somnifera (Ashwagandha): A Review. Alternative Medicine Review, 5(4), 13.
Panossian, A., & Brendler, T. (2020). The Role of Adaptogens in Prophylaxis and Treatment of Viral Respiratory Infections. Pharmaceuticals, 13(9). https://doi.org/10.3390/ph13090236
Pratte, M. A., Nanavati, K. B., Young, V., & Morley, C. P. (2014). An Alternative Treatment for Anxiety: A Systematic Review of Human Trial Results Reported for the Ayurvedic Herb Ashwagandha (Withania somnifera). Journal of Alternative and Complementary Medicine, 20(12), 901–908. https://doi.org/10.1089/acm.2014.0177
Priyanka, G., Anil Kumar, B., Lakshman, M., Manvitha, V., & Kala Kumar, B. (2020). Adaptogenic and Immunomodulatory Activity of Ashwagandha Root Extract: An Experimental Study in an Equine Model. Frontiers in Veterinary Science, 7. https://doi.org/10.3389/fvets.2020.541112
Salve, J., Pate, S., Debnath, K., & Langade, D. (n.d.). Adaptogenic and Anxiolytic Effects of Ashwagandha Root Extract in Healthy Adults: A Double-blind, Randomized, Placebo-controlled Clinical Study. Cureus, 11(12). https://doi.org/10.7759/cureus.6466
Straughn, A. R., & Kakar, S. S. (2020). Withaferin A: A potential therapeutic agent against COVID-19 infection. Journal of Ovarian Research, 13. https://doi.org/10.1186/s13048-020-00684-x