Lately, many of us have been struggling to cope with intense social, financial, ecological, physical, and emotional stressors. As a physician, a small businessperson, a mom, and global citizen concerned with justice, I feel overwhelmed by these challenges, but am also fortunate to have a supportive family, a stable job, healthy food, and a safe home during these tumultuous times. I am also grateful for two practices I have cultivated over the past 20 years to care for myself and others under stress: yoga and herbs.
Restorative movement and supportive herbs are both valuable tools for sustaining us during difficult times, and I'd like to share some guidance for strategically combining them for a holistic approach to stress management (I also recommend these tools to my patients, many of whom struggle with chronic medical conditions, anxiety, and discomfort).
How Herbalism & Yoga Became My Stress Coping Strategies
While I am grateful for my jobs, my kids, and my farm, it's a lot to juggle. I work really hard to keep it all together, and to do this, I need to take care of myself: by eating (not perfectly, but well), sleeping (as much as I can), and with an (almost) daily dose of herbs and yoga.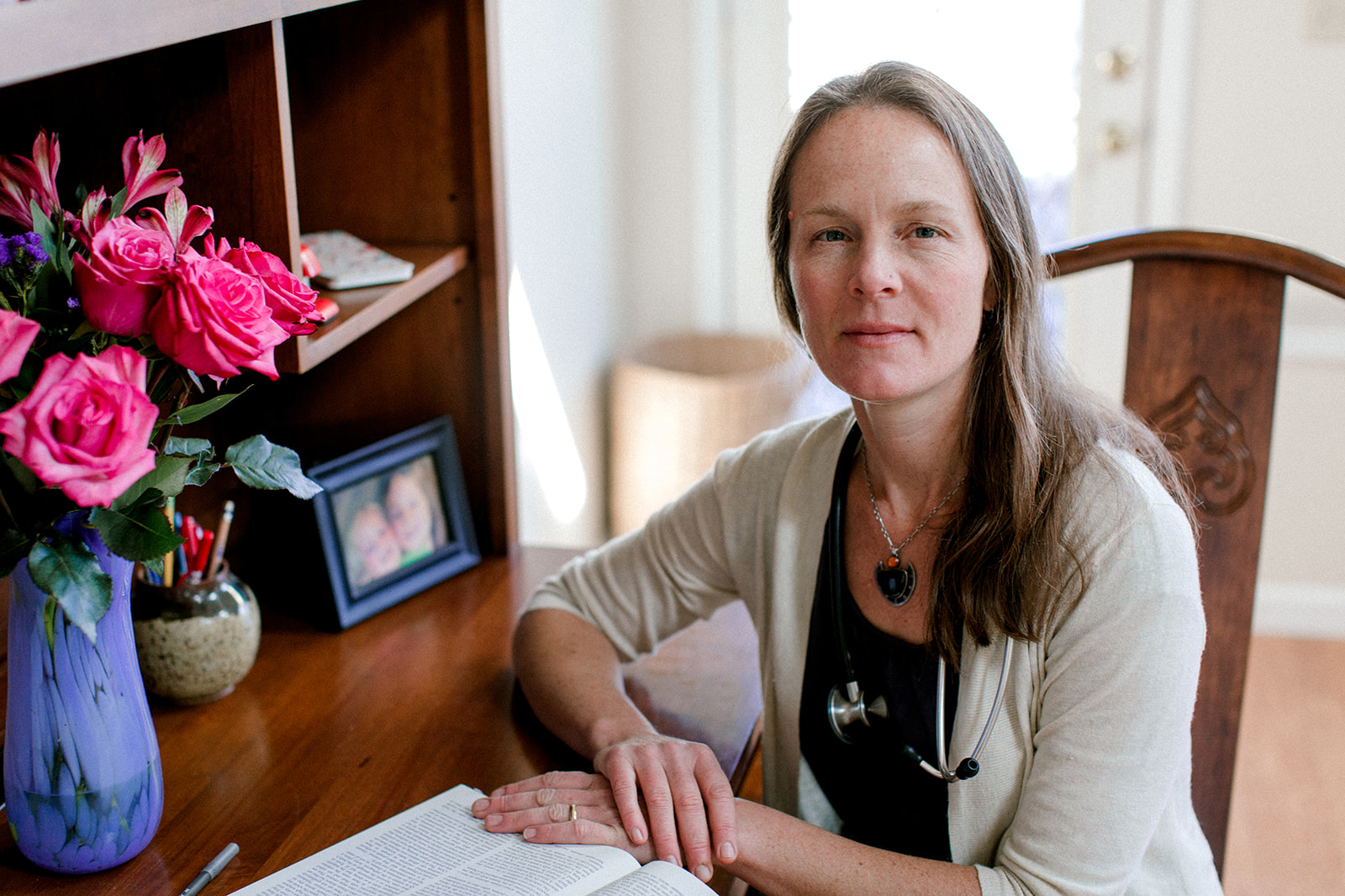 My relationship with botanical medicine has been a lifelong one. I grew up using herbs for most childhood illnesses and made my own herbal remedies while organic farming in college, which led to the realization that many of the "weeds" on the farm were also powerful medicinals. Studies in Western and Chinese herbal traditions eventually led me to become a physician, both to bridge the divide between conventional and alternative medicine, and to serve low-income communities who often cannot afford integrative therapies. I currently divide my time between working as a primary care physician in a community health center in rural Nevada County, California and running Five Flavors Herbs with my husband and licensed acupuncturist, Benjamin Zappin. Together we have also started a farm, Sunset Ranch, where we aim to cultivate organic herbs for our Five Flavors Herbs offerings (as well as food for our own family).
My yoga journey began at the very end of college, when I started practicing yoga as an alternative to sports while recovering from a debilitating case of tendonitis. Soon after, I was injured doing farm work, and I again turned to yoga to heal my back. From then on, yoga became a daily practice, supporting me through two natural home births and rapid postpartum recoveries. I became a mom and a medical student simultaneously, which meant I had to shift from in-person yoga classes to home videos that fit my busy schedule. While I missed participating in the sangha (spiritual community) often associated with a yoga studio, practicing at home allows me to focus on what my mind and body need on any given day.
Yoga for Stress
There are many styles of yoga practiced throughout the world, each with different specific goals and approaches. Virtually all emphasize controlled and mindful breathing, bodily awareness, and some degree of stretching (though this may be very subtle, depending on the style). I was fortunate to study with teachers from the Iyengar tradition in Santa Cruz, California, who taught me to slow down, attend to breath and alignment, and integrate yoga philosophy into life off the mat.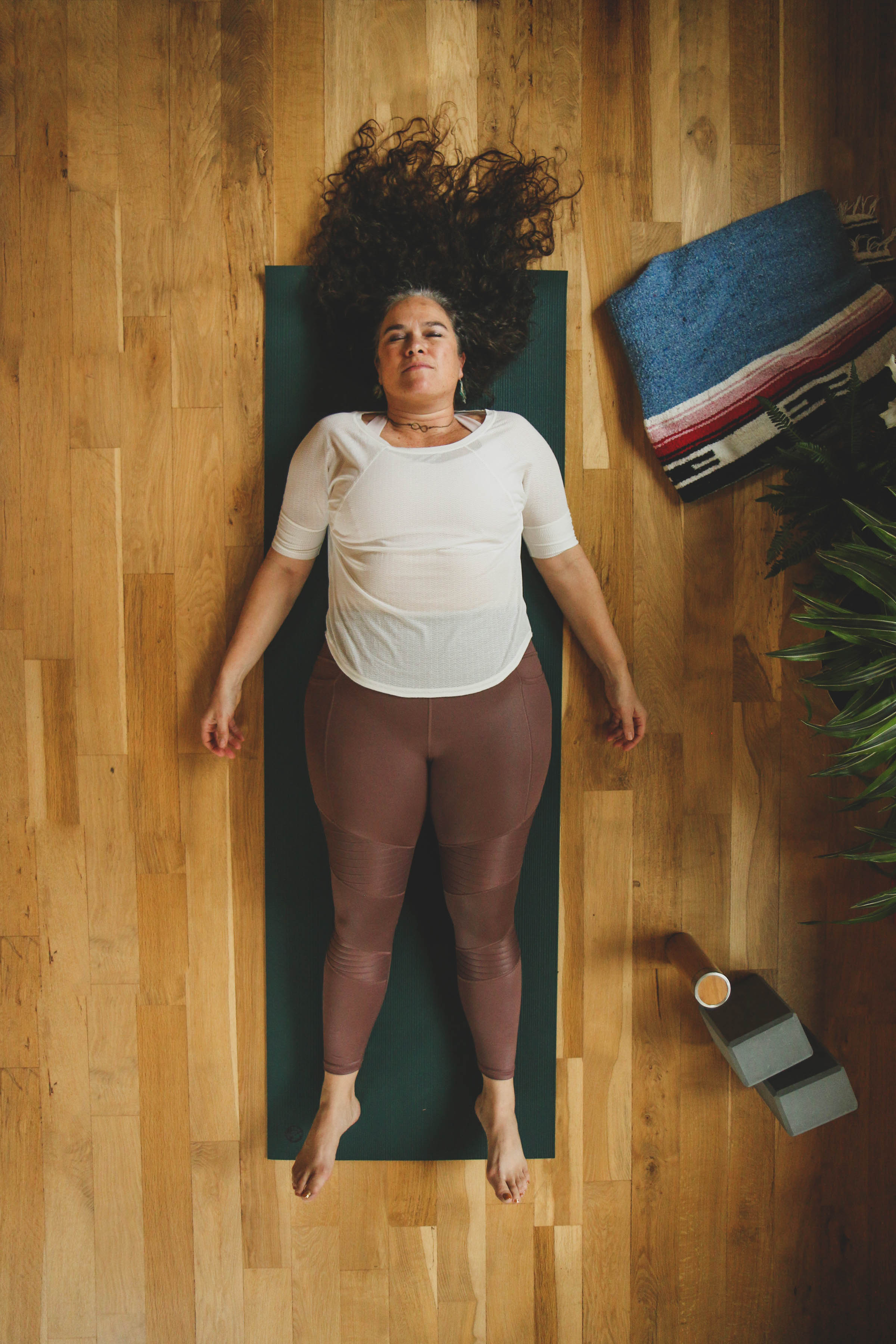 When done with intention and respect for your body, any type of practice can provide benefits for your whole self, so find a style that resonates with you. For beginners, I usually recommend starting off with in-person classes for instruction and guidance, then moving to online or self-practice once you have learned basic principles of safety, breathwork, and alignment. However, given current gathering restrictions and many of our busy schedules, it may make more sense right now to start online. Just make sure you start slowly and use props or alternatives when appropriate, and stop if anything hurts! You can explore the wealth of free and affordable digital classes available online and/or through your local library.
Since many of us benefit from the connection of a group (as well as the guidance of an instructor), consider in-person classes if/when that makes sense for you—many of which are also available for low-cost or sliding-scale (including many projects that extend yoga classes and yoga teacher training to underserved communities, such as Stay Engaged Yoga in San Francisco).
Herb Blend Tinctures for Yoga
I often use herbal tinctures to prime my mind and body to make the most of my yoga practice. Here are some of my favorite herbal extracts to take before my mat sessions:
Sustainable Energy Tincture with Adaptogens: This is my go-to herbal remedy for surviving and thriving under stress. It nourishes the endocrine and nervous systems, relaxes the mind, and uplifts the mood. The secret to its efficacy is its blend of powerhouse adaptogens—tonic herbs that build our resilience under stress and allow us to tame our response to everyday worries. Eleuthero root supports vitality and endurance. Ashwagandha and milky oats have been used traditionally to boost the mood and nourish the nervous system, support restful sleep, and for sexual vitality. Rhodiola has developed a reputation as a premier adaptogenic herb. Holy Basil's ability to support healthy mood, mental function, and stable energy levels are well documented. Schisandra (five-flavor) berry and licorice calm the mind, support the adrenals, and supplement the vital energy of the lungs.*
Clarity Tincture with Herbs for Focus: Before settling onto my yoga practice, I use this herbal extract to help me center and calm myself. Formulated with herbs from Western, Chinese, and Ayurvedic traditions, this remedy promotes concentration in the moment, and it has a cumulative effect on cognitive health over time. Gingko leaf and gotu kola are renowned for supporting cognitive health, while calamus root and rosemary gently stimulate alertness. Wild oats nourish the nervous system and provide tension relief so you can resist distraction. Holy basil promotes a greater resilience to stress and greater mental energy.* This combination has proved an excellent ally in supporting my mental and physical attention on and off the mat.
Essential Oils for Yoga
Aromatherapy is another wonderful way to use plants to calm the fluctuations of the mind, one of the foundational aspects of yoga practice. Essential oils influence the nervous system via the olfactory bulb, which signals the limbic system—the home of our "emotional brain" and core regulator of our mood, memory, and vital signs. In Traditional Chinese Medicine, essential oils are considered prime tools for addressing physical and mental disorders stemming from the emotional centers of the brain. Here are some ways to support your yoga practice with essential oils:
Release worry with oils like bergamot, lavender, clary sage, and rose geranium (or a stress-busting diffuser blend with them all). These floral (but not sweet) oils can soothe you into your yoga practice either during initial breathwork or in savasana.
Clear your mind with rosemary, peppermint, tulsi, and lemon balm (or combine them with lavender for an essential oil blend for focus). If you are feeling foggy-headed and low-energy before beginning your practice, apply a drop of these essential oils into your palm and rub vigorously for at least 10 seconds. Feel the warmth and energy rise and your mind clear!
Find your breath with sinus- and lung-opening oils like juniper berry, spruce, and other evergreens with a forest essential oil blend, or apply a stimulating mix of eucalyptus, white sage, and silver fir to your wrist with a pre-diluted roll-on blend to keep a breathwork reminder close at-hand!
(Inhalation of essential oils as well as topical application in a bath or in a carrier oil, makes them generally safe for all ages and individuals who take prescription medications. Please avoid internal use of essential oils except under expert guidance.)
Herbs and yoga are wonderful and accessible aids for self-care that can be used by most anyone, anywhere with a bit of space and time. So whether you are feeling burned out, wired, fragile, exhausted, angry, sad, afraid, overwhelmed, and/or hopeful, consider incorporating these powerful natural stress relief resources into your life.
You might also enjoy:
Written by Ingrid Bauer, MD, MS: With experience that bridges Western and Eastern medicine, Ingrid Bauer brings rigorous scientific knowledge to Five Flavors Herbs. A graduate of the UC Berkeley/UCSF Joint Medical Program and the American School of Herbalism in Santa Cruz, CA, Ingrid integrates plant-based medicine into mainstream healthcare. She is passionate about bringing holistic care to people from all walks of life. Her master's research focused on Latino health beliefs and traditional medicine at a bilingual clinic in Oakland, CA, and she teaches workshops about herbal medicine at conferences and schools.