Racial inequality remains well entrenched within American healthcare, including the natural wellness field. A long history of exclusion, deception, and neglect has engendered a deep distrust of medicine in many oppressed communities, leaving them without trustworthy resources for addressing physical and emotional trauma. We believe inclusive and accessible natural medicine is an essential human right, and that we must change the face of holistic health leadership to make it possible—starting with uplifting healers from Black and other disenfranchised communities.
Educators from marginalized groups have done the hard work of reclaiming their healing traditions from the patriarchal forces that have appropriated and corrupted them over time, bringing this wisdom back to its roots to serve the needs of their communities. These experiences make them uniquely qualified to lead the way in reimagining therapeutic systems to better reach underserved groups. We are fortunate to have one of these leaders right under our roof—Five Flavors Herbs Operations Director, Meghan Elizabeth.
Meghan's work in the Oakland community and beyond is aligned with uplifting Black and Brown wellness. She has led herbal programming for elder trans women of color in San Francisco, facilitated herbal youth workshops and skills shares in Detroit, and has designed an herbal medicine curriculum for Black Power programs in multiple cities. She is also a proud mother and devoted teacher to her young daughter, Oya. Recently, Five Flavors Herbs co-founder Dr. Ingrid Bauer sat down with Meghan to discuss her experiences as a Black, queer femme herbalist, and how she envisions herbalism evolving to celebrate and serve healers of color.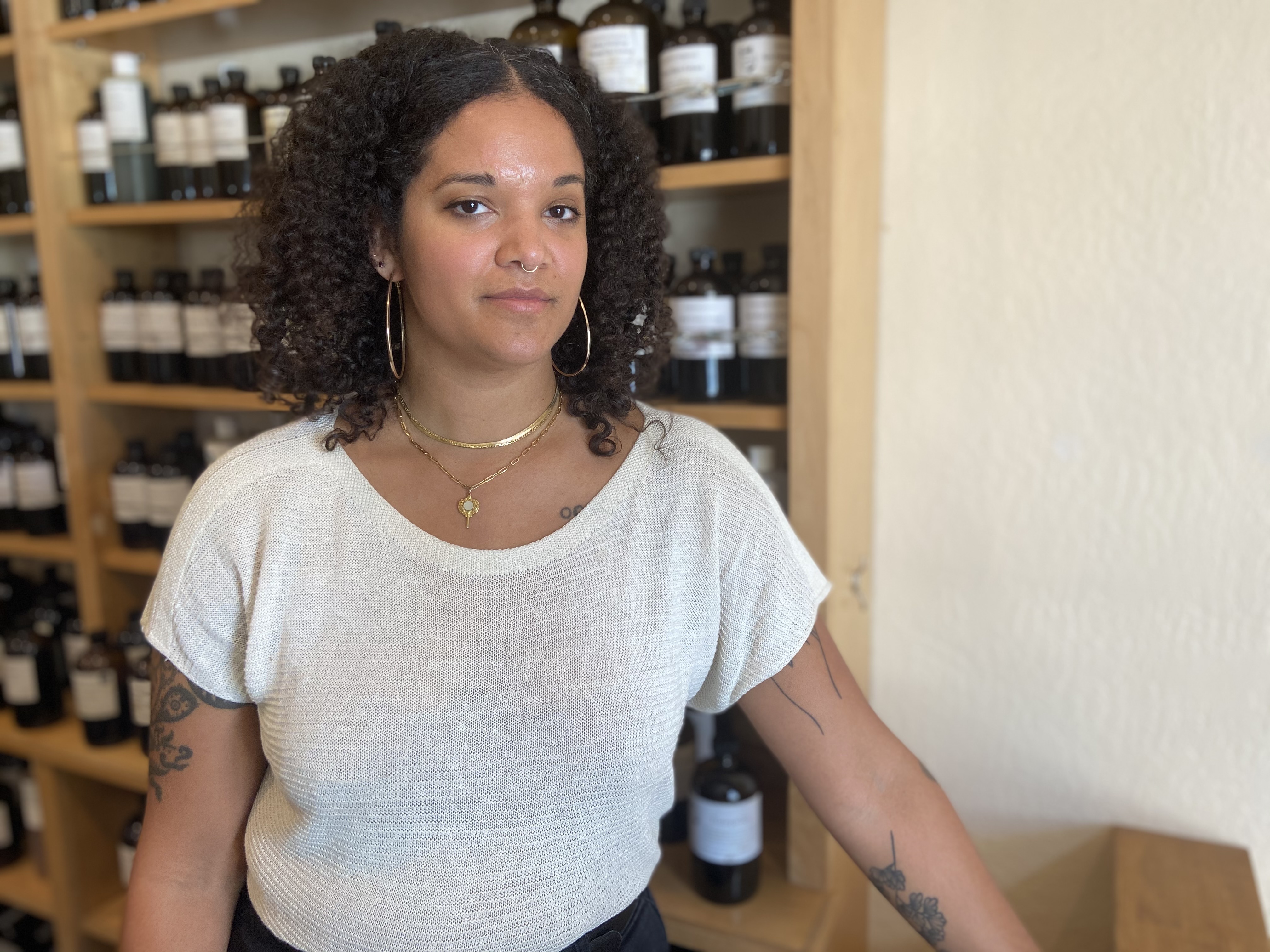 Meghan Elizabeth, Operations Director at Five Flavors Herbs.
Interview with Operations Director & Herbal Activist, Meghan Elizabeth
Ingrid Bauer (Five Flavors Herbs Co-Founder): How did you first get interested in studying and using plants for medicine? Did you grow up using natural medicine, or learning about natural healers in your family history—or was it something you came to on your own?
Meghan Elizabeth (Five Flavors Herbs Operations Director): Natural medicine wasn't a part of my childhood. I was first exposed to plant medicine in 2005 in Hawaii. I got a random WWOOF gig working with Marlene Gibson, a fairly well known (but unknown to me) herbalist on the Big Island. She had thrown her back out transplanting a cinnamon tree nine months before I arrived, and she brought me on to resurface the beautiful herbal gardens on her small plot of land. I didn't realize it then, but this might have been the most intensive herbalist training I ever received.
For five months, I sat, squatted, and knelt on the earth six to eight hours a day tending, transplanting, and uncovering. At night, I would read Rosemary Gladstar, Michael Moore, and other celebrated herbalists, learning the basics of medicine-making through a self-selected collection of "materia medica." But even while I was increasing my understanding of plant medicine through fieldwork and books, I didn't fully identify with herbalism. There was something very New Age and "white-hippie-folk" about it that didn't feel real to me. I couldn't see myself in what I was learning, but my curiosity was piqued enough to dive deeper.
In the years that followed, I gradually found myself drawing many connections between plant-based medicine, activism, and my budding spiritual practices. But it wasn't until shortly after moving to Santa Cruz, California in 2010, when I found myself with a nasty sore throat and no health insurance, that I really started to explore natural medicine on a more intimate level. I saw an herbal healer for my throat, and I found that Osha root provided relief for me in three days, something that had taken antibiotics at least a week to accomplish with past illnesses. There was no turning back after that. It was like I finally understood what Marlene had in her heart and how it could live in mine.
Ingrid: How did you find a teacher or other resources for studying? Were there challenges finding someone you connected with? Were you specifically looking for a Black or POC, woman, and/or queer educator? How do teachers' identities impact their students' experiences? In your experience, how have non-white educators been left outside the "mainstream" of Western herbal medicine in the US?
Meghan: I struggled to find a Black community in the Bay Area herbal scene for a long time. I started a study group with my white friend, Mahina, and bounced in and out of the Berkeley Herbal Center before finally connecting with Elokin Orton-Cheung and later Atava Garcia of Ancestral Apothecary. These spaces were safer, but they were still white/light. I wanted a Black teacher, and I wanted someone to help me draw connections between my growing alignment and practices honoring Yoruba/Ifa traditions. I started seeking out Luisah Teish, a well known author and Bay Area treasure who practices at the intersection of traditional African spiritual practices and natural medicine. She is a powerful healer and storyteller, and she inspired me to keep digging until I found something that fit just right.
There were a handful of Black queer herbalists popping up in the Oakland scene, and when I connected with them, I found that we were all struggling to find an educational space that could hold our whole selves.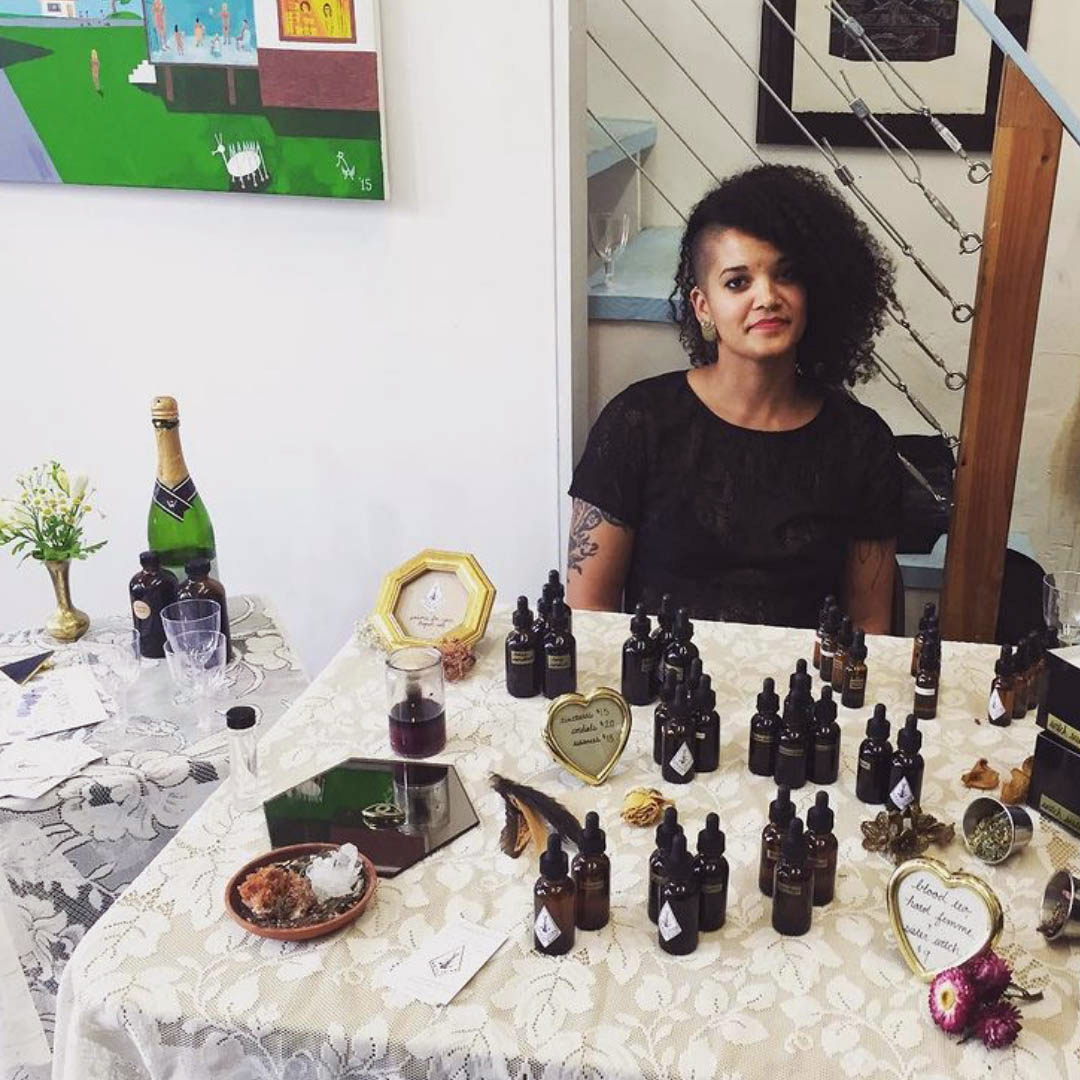 Meghan tabling for FemmeScience remedies at a maker fair.
Meanwhile, online demand for the remedies that Mahina and I were creating in my living room had increased significantly, and we sort of fell into building an herbal brand by accident. Before I knew it, we were calling ourselves FemmeScience Herbals and creating small, single-herb tinctures and flower essences for our communities. The demand grew so big, we had to create labels! Then we started growing our own herbs on her family's land in Hawaii. Once we started doing herbal fairs and craft shows, something clicked inside of me.
I was seeing so many Black people hungry for education on plant medicine—so many people who, like me, couldn't find safety or resonance or representation in a class in the Bay area, but still wanted to learn about these topics in a way that centered their identities. I realized that I had to look within myself to find what I and so many others were searching for, and that's what I did. I spent a year developing a curriculum called "Herbal Medicine for Black Power," which was first offered in the summer of 2017. I created, to my knowledge, Oakland's first introduction to herbalism course designed exclusively for Black students.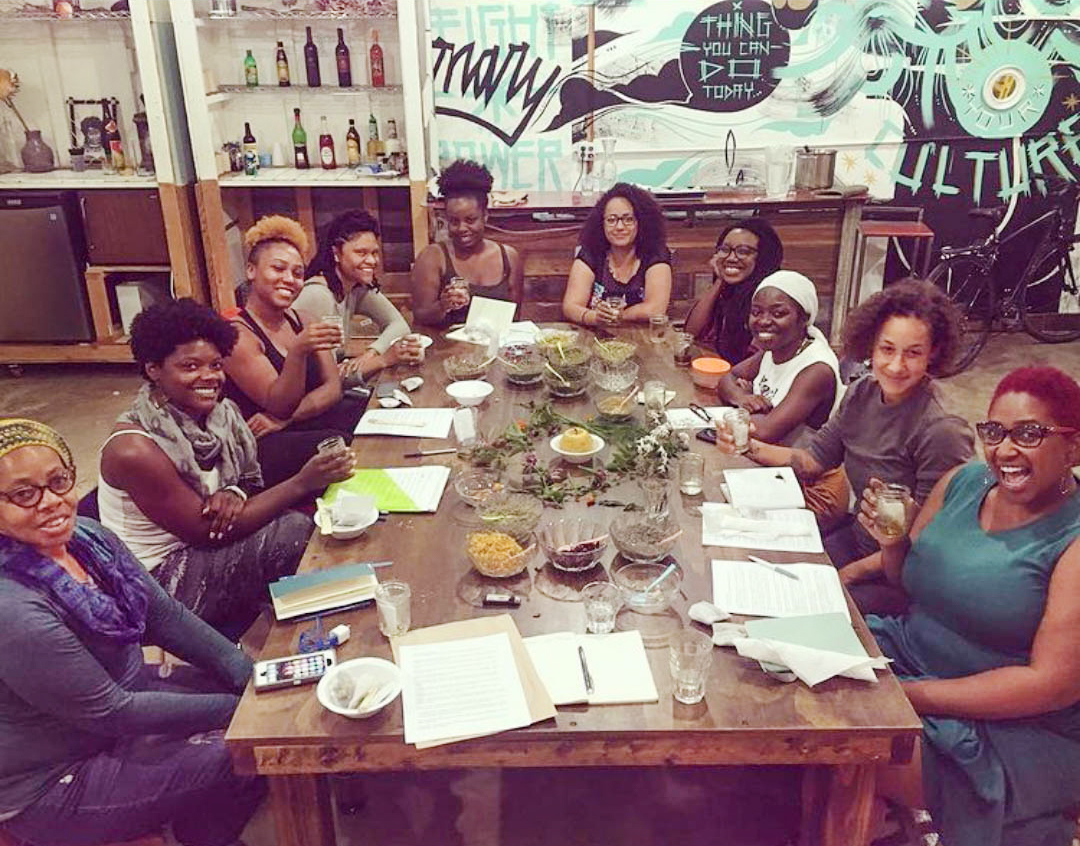 First cohort of Meghan's Herbal Medicine for Black Power program.
Ingrid: How does your relationship with herbalism inform your operations work now? Are you finding time to also be an herbalist?
Meghan: When I got pregnant and started focusing on teaching, I had to let go of medicine-making for a while. FemmeScience had transformed into something else—we were donating money and medicine, doing education and outreach, and just generally finding ways to break out of the capitalistic runaround of "building an herbal medicine brand." I did maintain my private "clinical" practice, where I specialized in reproductive health.
After my baby came in January of 2018, everything paused. Babies change lives and FemmeScience had to die so that I could really step into my motherhood. I decided to join the Five Flavors Herbs team and gain some experience in what a career in commercial herbalism could be.
Five Flavors Herbs was rapidly growing and looking for someone to help with defining its structure and logistics. As the Operations Director, I lead the company in executing business strategy, program and project management, customer relations, and human resources oversight. I have a bachelor's degree focused in Operational Management, and several years of experience managing nonprofit programs. Getting hired allowed me to explore the intersection of my business management skills and herbal medicine passions, and my role here has enabled me to further develop both. Plus, I get to learn more about plants every day. It's really a great job!
Though working for Five Flavors Herbs has been a privilege, it has come with many challenges as well. I am currently one of two Black employees—a situation I hadn't been in professionally since 2009. I deal with tokenism and microaggressions on a regular basis (which is probably the case for all Black professionals working in small and mostly white teams). It was hard to show up at work and hear my white colleagues talk about how disgusted they were with George Floyd's murder. It's hard to get an email from a Black customer saying they were made to feel uncomfortable in the shop, and then have to address it with my white colleagues who I supervise. So while I love getting to be a Black herbalist in a leadership position at Oakland's top herbal apothecary, it's not all peaches and cream.
Ingrid: I hear you. This is such a critical time for white and other non-Black folks to reflect on overt and implicit anti-Black racism in our daily lives, including at work. One response we took as a company was to host a staff workshop on anti-Black racism in herbalism last year, and we plan on doing similar programs on a rolling basis, to improve our ability to self-reflect and change how we think, speak, and act. On a related topic, how do you see herbal medicine being a valuable tool for uplifting Black people and promoting racial justice? Can you share some examples, maybe some community-based efforts that you have worked on?
Meghan: I believe that herbal medicine is an essential tool in the Black Power toolkit. At its core, herbalism allows us to be the experts of our own bodies. It's rooted in relationships between plants and humans, and I believe that for Black people, specific plants—hibiscus, goldenseal, cottonwood bark, and marshmallow, to name a few—have a specific resonance (read: efficacy) for our bodies, because our ancestral relationship or history ties us to them, physically and energetically.
It is also important to understand that enslaved Africans were brought to the Americas not just as slaves, but as stewards of the land. African people were taken specifically for their knowledge of growing plants in wet or swampy conditions. British and Spanish colonizers didn't understand how to work with the land or the indigenous plants that they stole. Enslaved Black people came here as experts of plants and farming this type of earth. And once they delivered that gift, they were forced to forget. But many of us have not forgotten. Many of us remember a little bit more every day. They tried to bury us, but we are seeds.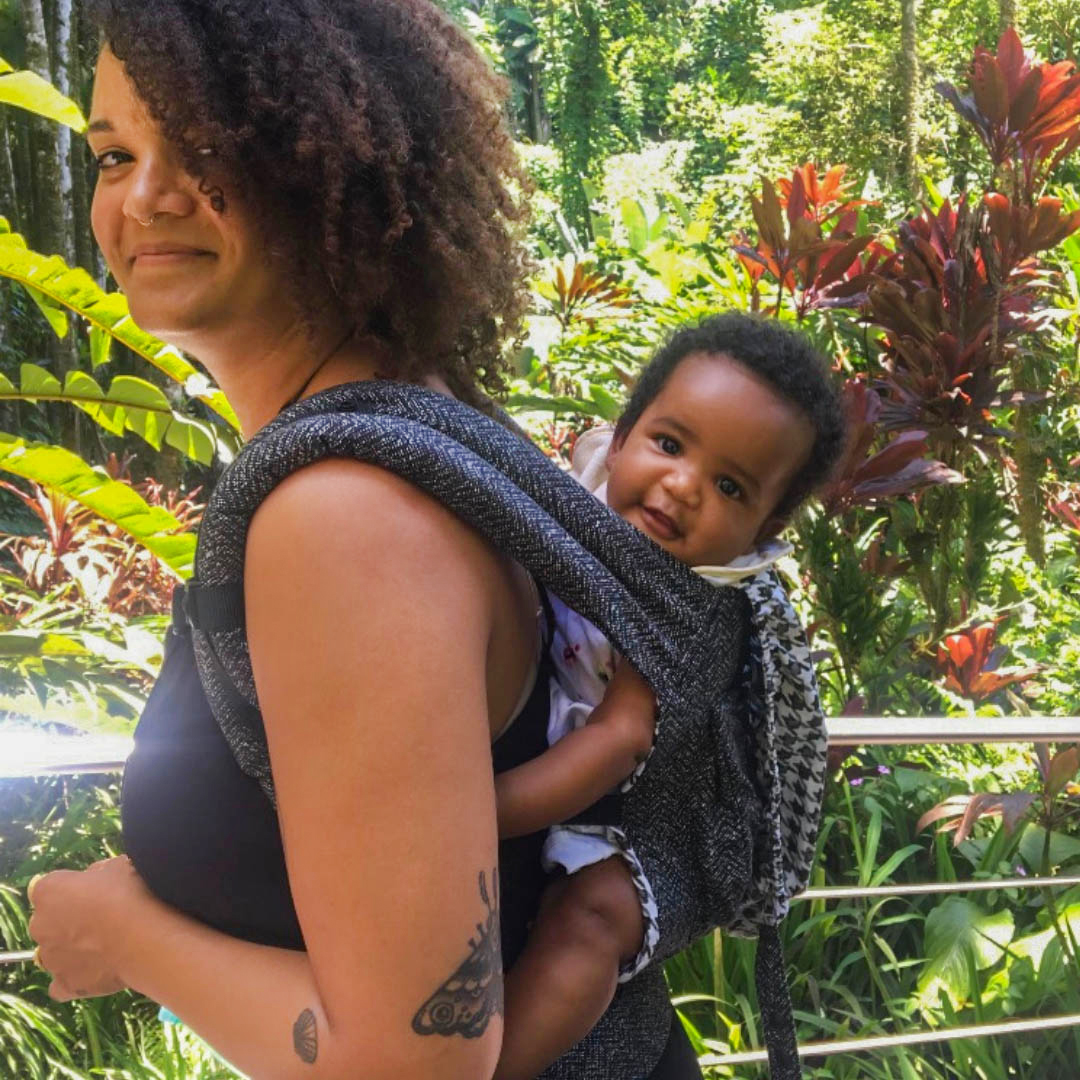 Meghan and daughter Oya.
Ingrid: I love this metaphor. How do you see yourself growing and engaging with herbal medicine outside of work right now? Do you have time?
Meghan: Haha, barely! I spent a lot of time in my garden this summer, and I'm always teaching my baby the names of herbs. I take classes when I can, and I still have some time to work with a couple of long-term clients. This summer, I was able to do free herbal consultations with the Freedom Community Clinic, and I also ran a free healing clinic called Obsidian Garden alongside my homegirl Shani Ealey. We arranged for 16 Black people per month to receive full-length body or spirit work treatments in an outdoor and socially distanced setting. It was beautiful! I like facilitating healing spaces and organizing for Black people to have access to wellness. So even when I'm not introducing people to plants, it feels good to work as a healer who can create access.
Ingrid: Any Black healers or brands you'd recommend looking out for?
Meghan: Oh, we are so vast and abundant, there are too many to name! This recent LA Times article on Black herbalists features a few of my favorites. Karen Rose is leading one of the top Black-centric herbal programs in New York and has really lovely social media content. Abi Huff and I hung out a few years back at the Women of Color Herbal Conference, and she blessed me with a cup of fresh chamomile tea every night before bed, so I've been excited to see her building some hype. And Jamesa, who is the powerhouse behind Jam Haw Herbals, will also be featured by Five Flavors Herbs as one of our Black Makers to shop. Her brand is very unique and beautiful. I love when people understand the concept of adorning medicine!
Written by Meghan Elizabeth: Meghan Elizabeth is a Black, queer, mother, herbalist, and believer in magic. She currently resides in Oakland, California and serves as the Operations Director for Five Flavors Herbs. Her herbal work is aligned with uplifting and centering Black and Brown healing and wellness. She has led many Bay Area initiatives including organizing Obsidian Garden, a free healing clinic for Black people in Oakland.
WHY IS BLM AN INTEGRATIVE HEALTH ISSUE?
READ MORE
You might also enjoy these offerings from Black makers: