Posted by Ingrid Bauer, MD, MS on Apr 21st 2021
Why should a small white-owned business that makes and sells herbal extracts make public statements like "Black Lives Matter," "Defund the Police," and "Stop Asian Hate"? How can we take a stance against racism, inequality, and police brutality, and actually participate in social transformation towards the equal treatment of all people? We may not be able to influence the outcome of trials or prevent the next police shooting, but we can impact changes within our company; educate ourselves, customers, and colleagues; and support local and national groups that are organizing for change.
Today, as a nation, we should be celebrating a small but hard-won victory for police accountability in the murder of George Floyd by Derek Chauvin. Yet, minutes before the guilty verdict was released on April 20th, another police murder took place. Teenager Makhia Bryant was shot dead by police outside of her home in Columbus, Ohio. Details of what took place will certainly be emerging, but one thing is clear: the police used deadly, excessive force against a child, acting as judge, jury and executioner. This is the first reason why all people of conscience should speak up, because the struggle for true equality in our nation is far from over.
The second reason we must speak up is because as small business owners, we care about our staff, customers and neighborhood. Over the last eight years we have witnessed many internal and community-level struggles around race, identity and oppression. The building we occupy was previously the home of the Ella Baker Center for Human Rights, formerly led by renowned civil rights leader Van Jones. The neighborhood, historically Black, has been transformed by gentrification to encompass the extremes of homeless encampments and million dollar homes on the same block. Yet folks from all walks of life enter our shop, share their stories and ask for health advice. Over the years we have responded to complaints about unequal treatment by customers, navigated uncomfortable conversations among staff regarding microaggressions in the workplace, and sought to uphold principles of diversity and equity in our hiring practices. We have donated to local organizations and provided first aid kits to protesters. These have not all been comfortable situations, but are important ways we have worked toward social justice locally.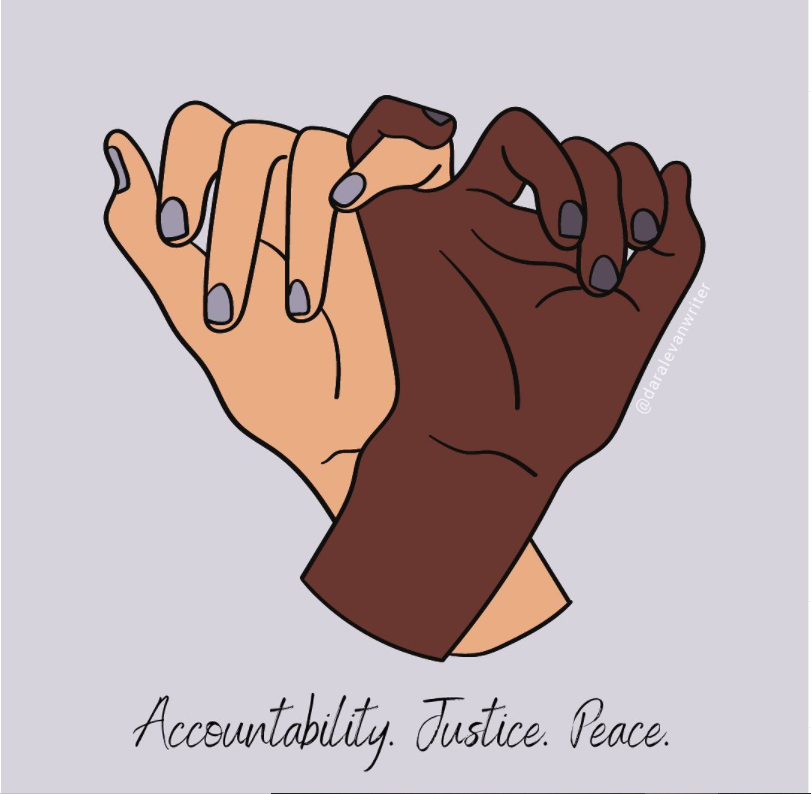 Art by Dara Levan.
A third reason to speak up is empathy: the ability to understand the feelings of another. One way to build empathy is to see similarities across perceived differences. My husband Ben, co-founder of FFH, is the same age as George Floyd. My brother is the same age as Ahmaud Arbery. My daughter is in 7th grade, the same grade as Adam Toledo. My 19 year old nephew is the same age as Christian Hall. My white family members are alive. These Black, Latinx and Asian American individuals are not. No amount of hand-wringing and guilt-ridden social media posts by well-meaning white people will bring these spouses, parents, children, or classmates back to life. But as white people, we can take a look at ourselves, reflect on how it would feel for this to happen to us, to make this personal--about our friends, neighbors, colleagues, and community members--and hopefully spur us to act.
What action is needed? Activists and family members of victims are currently shifting from asking for justice because, as the mother of Daunte Wright said, "...unfortunately, there's never going to be justice for us...Justice would bring our son home to us." Instead, Katie Wright and so many others demand police accountability. Indeed, we all need to demand accountability and radical change in the structures of policing and emergency response across our nation, if we want to prevent more extrajudicial killings.
Police accountability is at the core of the hashtag "Defund the Police." Some would argue this means dismantling of policing as we know it, along with abolition of the prison system. Others want to shift funding for police to de-escalation teams that include mental health professionals, medics and community outreach workers. Almost all agree that communities experiencing violence need more investment in schools, parks, social and mental health services, community gardens, grocery stores, and all of the other perks that affluent and white neighborhoods take for granted.
We also need social accountability to unwind a long, twisted history of racial bias and class inequity that dates back to our nation's legacy of genocide and slavery. This process begins at the individual and community level, but is also needed desperately at the national level. And white people need to get on board! According to a study by the Pew Research Trust in 2020, only 4 in 10 white Americans feel that it is important to get educated about the history and present state of racial disparities in our country, compared with nearly 8 in 10 Black Americans.
Ways to start educating ourselves include subscribing to Shaun King's The North Star newsletter for lots of important content on race, politics, organizing, and social change. Read Ibram X Kendi's "How to Be an Anti Racist," or get old school with Howard Zinn's "A Peoples' History of the United States". For many more educational resources for white folks wanting to learn how to participate in anti-racism and social transformation, see this list shared by the Farm and Wilderness Foundation.
Right now there are so many organizations to support with your money and volunteer time around issues of racial justice and police accountability, it's hard to keep track. At the local level, we have been following community initiatives in the East Bay including the Anti Police Terror Project, Standing up for Racial Justice, and many others. At the national level, some great places to start looking for ways to plug in include Truth, Reconciliation and Racial Healing, Color of Change, The Immigrant Justice Network, and Stop AAPI Hate.
One final reason why, as a white-owned herb business, we need to speak up about racial justice is that not all white herbalists want social change. Being an herbalist does not automatically make someone a social justice warrior or naturally undo the complex layers of historical and interpersonal inequalities and oppression. A recent controversial essay circulated on social media, exposes how many white herbalists feel threatened by the decentering of whiteness in herbal medicine and throughout society. Five Flavors Herbs joins many other white and BIPOC herbalists in condemning the narrow-minded and inflammatory nature of this rhetoric that gaslights against a so-called "woke mob." Rather than dwell further on the divisions instigated by this post and other reactionary standpoints, we choose instead to build bridges and seek alliances with individuals, businesses, and organizations that aim to heal, uplift, and reconcile the past for a better tomorrow.
You might also enjoy:
Written by Ingrid Bauer, MD, MS: With experience that bridges Western and Eastern medicine, Ingrid brings rigorous scientific knowledge to Five Flavors Herbs. A graduate of the UC Berkeley/UCSF Joint Medical Program and the American School of Herbalism in Santa Cruz, CA, Ingrid integrates plant-based medicine into mainstream healthcare. She is passionate about bringing holistic care to people from all walks of life. Her master's research focused on Latino health beliefs and traditional medicine at a bilingual clinic in Oakland, CA, and she teaches workshops about herbal medicine at conferences and schools.