Posted by Jules Benefico, Certified Clinical Herbalist on Nov 1st 2020
When it comes to gift giving, it's the thought that counts. And what could be more thoughtful than gifts that bring joy and well-being to the recipient, the community, and the planet? Find sustainable, lovingly made, and unique gifts for family, friends, and most anyone on your list with our 2020 Natural Health & Body Care Gift Guide. With locally made organic skin care, expertly curated wellness kits (perfect for gift baskets!), and physician-crafted herbal extracts to calm, fortify, and inspire, our herbal product hit list is designed to make your holiday shopping stress-free and rewarding.
Plus, all locally made products (including our Five Flavors Herbs signature tincture line) are 15% off for the month of November, with more specials to be announced soon! All offerings on this guide are available for US delivery (with FREE SHIPPING on orders $75+) or free pickup at our Five Flavors Herbs apothecary (choose "Store Pickup" at online checkout, or give us a call for assistance).
And remember: there's no shame in doing a little shopping for yourself as well!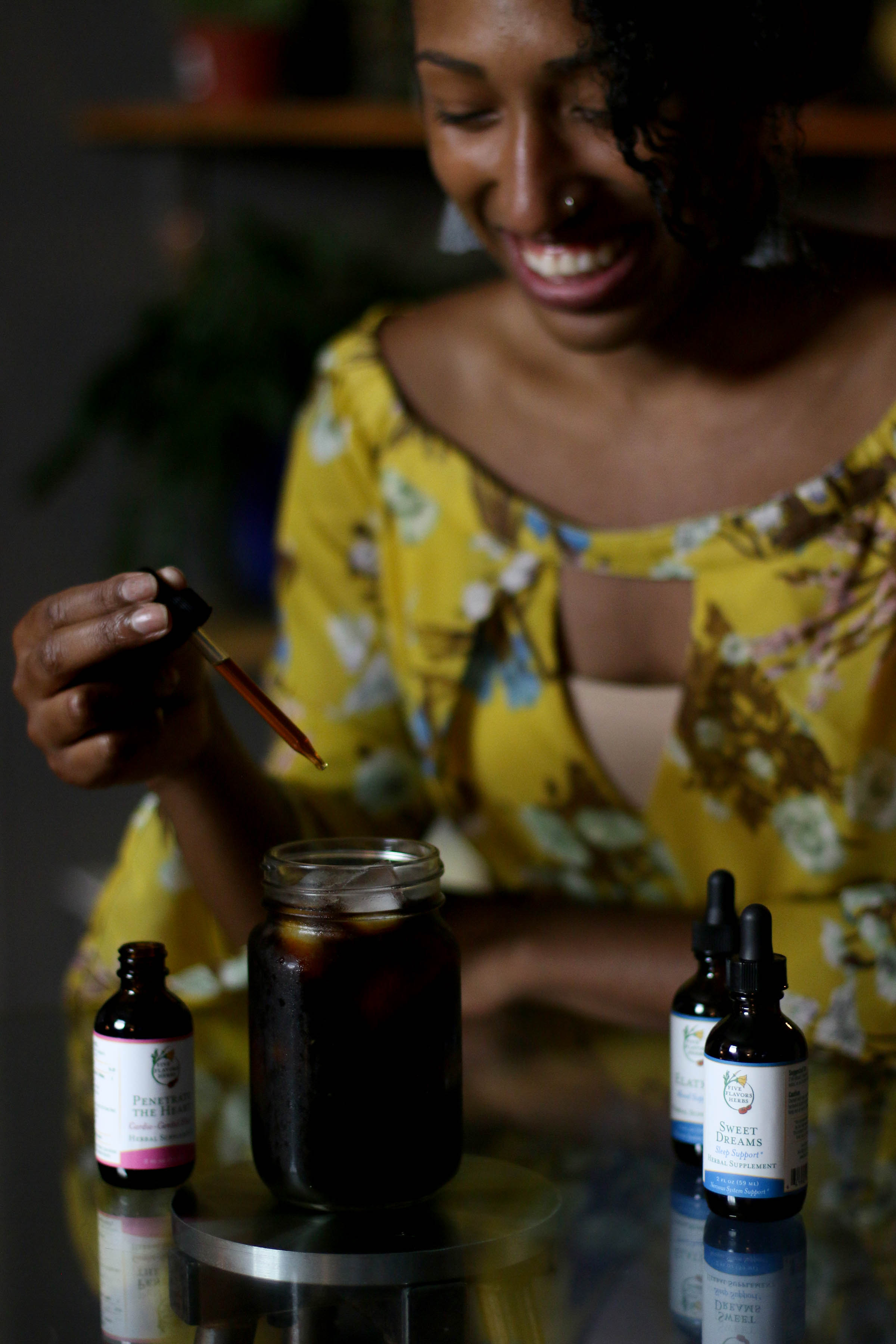 Top Herbal Tinctures for Mood, Mind & Body
Elation Tincture for Mood - This formula blends the classic Traditional Chinese Medicine formula "Free and Easy Wanderer" with Western herbs for the nervous system to provide both immediate and long-term mood support. The Chinese components help regulate Liver qi, support digestion, nourish the Blood, and uplift the spirit. Adaptogenic rhodiola supports a healthy stress response, and calming herbs like Albizia and lemon balm help stabilize and soothe.
Sustainable Energy Tincture for Vitality - This adaptogenic blend with herbs like ashwagandha, holy basil, and eleuthero nourishes the adrenals and nervous system, relaxes the mind, and uplifts the mood to help the body respond to stress.
First Response Tincture for Immune & Sinus Support - This formula combines potent herbs for supporting the body's immune system during the initial phases of mild seasonal discomfort. Elderberry and yarrow have been combined for centuries to help stimulate immune response, and herbs like marshmallow root, osha, and licorice root help relieve mild throat and respiratory discomfort.
Penetrate the Heart Tincture for Romance - This cordial is not only beneficial, but delicious! When enjoyed on its own, with sparkling water or mixed into a cocktail, it's formulated to uplift the mood (with herbs like Albizia), support the heart (with the help of hawthorn berry), and to boost libido (with herbs like damiana, horny goat weed, and cacao).
Tranquility Tincture for Peace of Mind - This formula helps calm restless thoughts and spirits. From a TCM perspective, Albizia and schisandra berry help elevate mood and relieve occasional anxiety. California poppy helps break patterns of circular thinking, while skullcap calms and nourishes the nervous system. Kava kava, which has long been used to promote harmonious social interactions, begs you to share this formula with friends!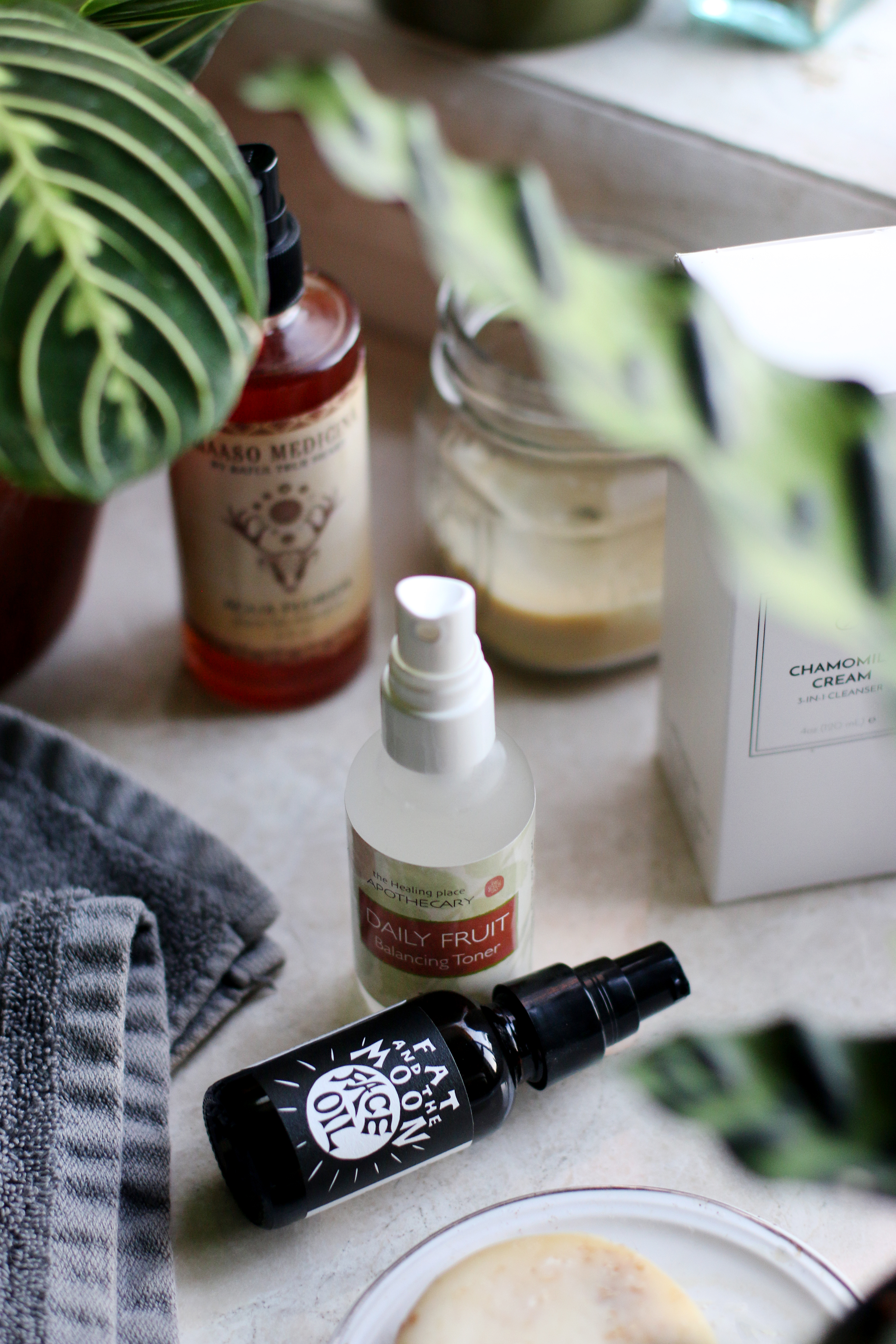 Health & Beauty Gifts from Small & Local Makers
All Cream (Fat and the Moon) - This all-purpose cream is the perfect blend of hydrating and toning elements like aloe vera and rosewater, combined with skin protectors like shea butter. Sunflower oil, our favorite of the plant oils, packs in nutrients that soften and feed the skin while also harboring the energy of the proud and open sunflower. Gift sunshine on winter days with this nourishing moisturizer (more on the maker).
Daily Fruit Toner (The Healing Place Apothecary) - Balance, repair, and tone your skin with this botanically infused facial toner. Fruit extracts, tree resins, herb distillates, Dead Sea salt minerals, and aloe work in concert to combat free radicals, encourage cell turnover, and calm inflamed skin (more on the maker).
Chamomile Cleanser (Chuck and Sam) - This gentle multi-tasker can be used as a cleanser, makeup remover, and light moisturizer, removing dirt and makeup without stripping your skin. Chamomile, yarrow, and calendula flowers calm sensitive, stressed-out skin, while olive oil brings the antioxidants and hydrating squalene, and clary sage and Roman chamomile oil offer cleansing properties and soothing aromatherapy to help you wind down at the end of the day (more on the maker).
Agua Florida (Maaso Medicina) - Agua Florida is a traditional and synthetic-free flower water, or "Florida water." Its refreshing and balancing cinnamon-clove-citrus scent contains powerful cleansing energies that come directly from the plants. Agua Florida can be used in skincare, steams, and space-cleansing rituals to help move stuck energies, ground, and protect (more on the maker)
Wellness Kits for Health & Self Care
Kit for Digestive Support- Our Digest Ease Kit helps nourish, soothe, and support the function of the digestive system. We've matched our GI Feel Better Tincture for digestion with probiotics, Ayurvedic herbs, and other supplements for a gift kit that offers broad-spectrum care for the gut flora and microbiome.
Kit for Stress and Adrenal Support - Our Stress Support Kit aids the nervous system and helps reduce tension. Our signature Tranquility Tincture with nervine herbs, along with calming essential oils, vitamins, and other botanical stress aids, help you cope with normal daily strain on the body and mind.
Kit for Energy & Mood - The Uplift Kit is designed to help promote mood balance and spark joy. This kit features our mood-boosting Elation Tincture along with joyful essential oils, energizing vitamins, and herbal syrup with adaptogens for stress relief.
Kit for the Immune System - The offerings in the Immune Protect Kit help to fortify and reduce strain on the immune system. This gift kit includes our Back to School Tincture for immune support, a hand spray for on-the-go cleansing, Stamets 7 medicinal mushroom powder, and immune-stimulating essential oils to keep your body and your space strong and resilient.
You might also enjoy:
Written by Jules Benefico: Jules Benefico is a Clinical Western Herbalist and the Retail Manager at Five Flavors Herbs. She studies medical astrology, western alchemy, and clinical nutrition and infuses this into her herbal practice.