Pollen season got you feeling down—or stuffed up? Essential oils can be supportive allies against the spring sniffles! For a simple way to find rapid relief when pollen becomes overpowering, we turn to high-quality, organic, and therapeutic essential oils to relieve sinus congestion and ease our seasonal discomfort.
Sinus Benefits of Essential Oils
Sinus-supportive essential oils release natural compounds that can help open the airways, allowing you to breathe more easily. They can help calm inflamed nasal passages to reduce uncomfortable pressure, release buildup, and signal the body to modulate its histamine response. These oils can be used on their own or in strategic combinations, and there are several different ways to enjoy their benefits.
Ways to Use Essential Oils
There are several ways to apply essential oils for maximum benefits. The steam inhalation process above is one of our favorites. Here are a few other options: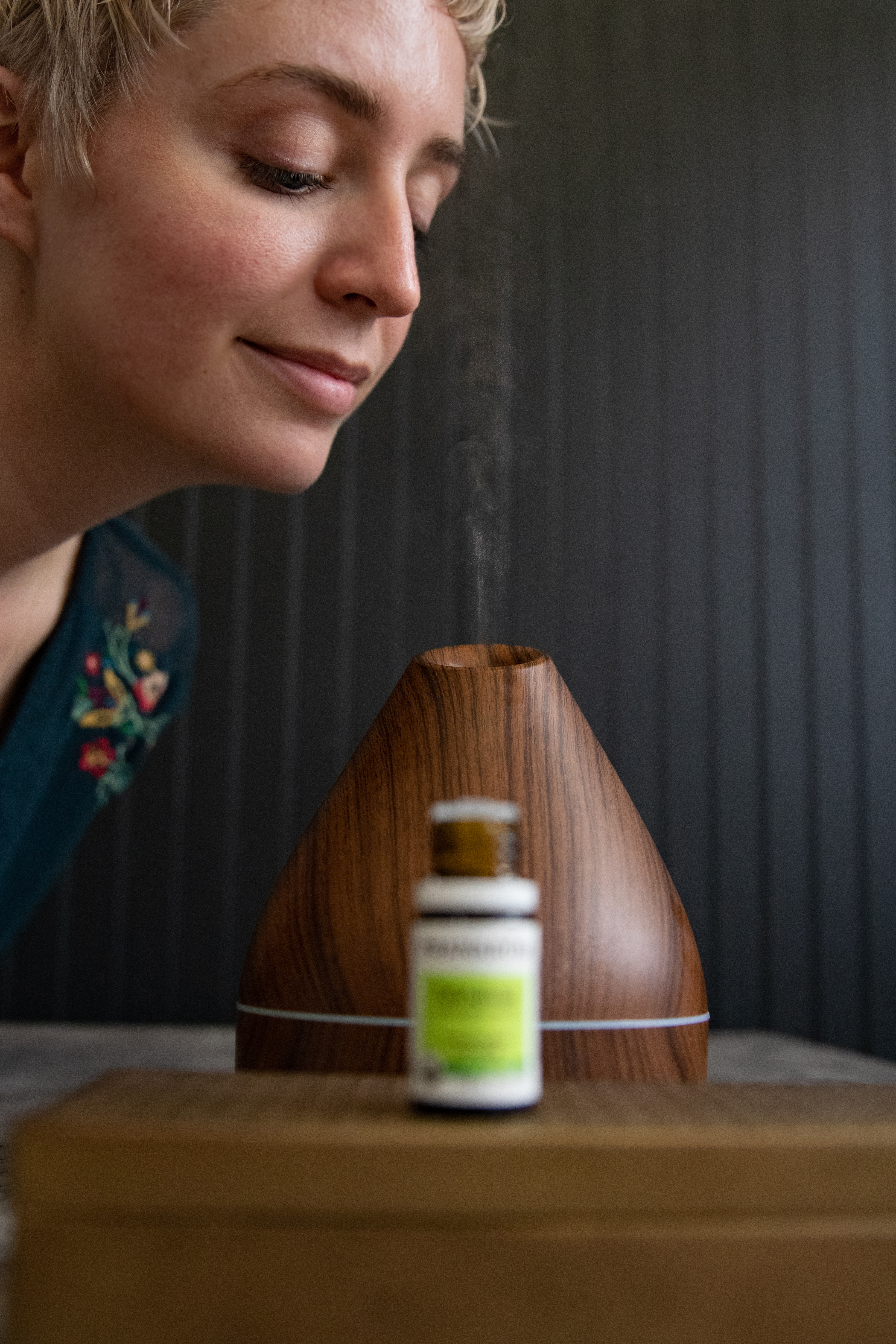 6 Essential Oil Safety Precautions
Essential oils are made up of the aromatic volatile oils of plants and are quite potent, so safety is key when working with these valuable plant compounds. Here are a few tips to keep in mind:
Do Not Ingest: Some companies consider it safe to ingest essential oils internally, but we and many other natural health practitioners strongly disagree.
Dilute: Essential oils should be diluted in a carrier oil before topical use.
Avoid the Eyes: Essential oils can irritate eye tissue and can be difficult to flush out, so avoid splashing or rubbing your eyes when working with them.
Use Caution if Pregnant: Many essential oils are contraindicated during pregnancy, so check in with your healthcare provider before use.
Choose Quality: Do your research to ensure you are purchasing only high-quality, pure, and therapeutic grade essential oils. Many products marketed as essential oils have been found to be diluted, contain synthetic chemicals fragrance oils, or made from plant material too degraded to be effective. Three trustworthy essential oil brands we rely on are Pranarom, Floracopeia, and Flor de Amor.
Less Is More: Essential oils are precious! It takes a large amount of plant material to make a very small amount of oil, so be sustainable and use sparingly!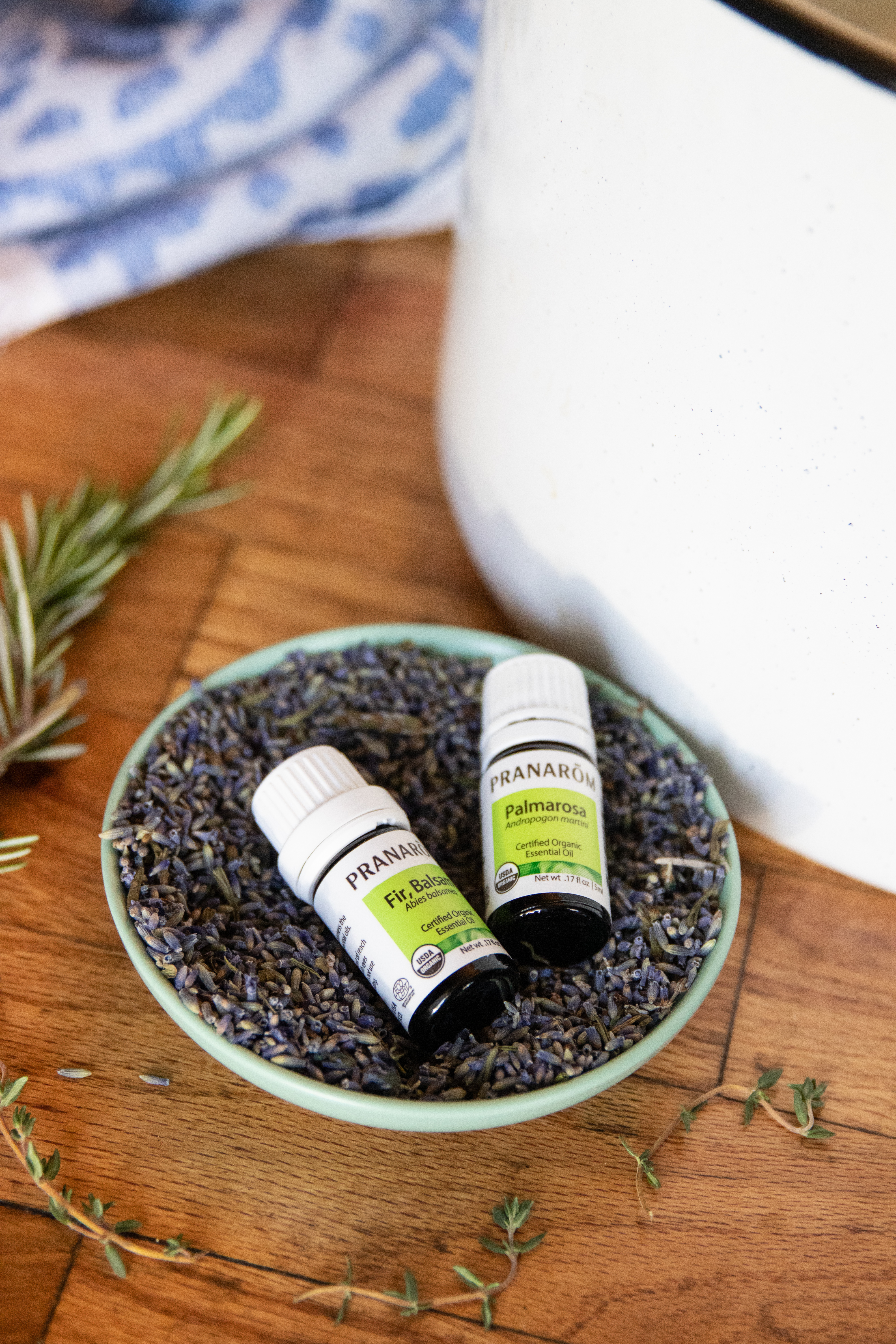 10 Essential Oils for Sinus Health
Palmarosa: This uplifting oil with a floral and citrusy aroma is often utilized in skincare, but palmarosa is also highly regarded for its immune supporting properties. Add a few drops to a salve or a half-cup of carrier oil for a quick breathe-easy chest rub.
Peppermint: Minty and refreshing with a potent fragrance, peppermint releases a menthol compound that aids the sinuses by loosening mucus and opening the nasal cavity. Peppermint has also been found to support the immune system, helping us clear out pesky infections.
Ravintsara: This less common essential oil with a woody, fresh, and mildly minty scent is perfect for fighting off infections and decongesting the sinus passages. Ravintsara can help the immune system ward off invaders and aid the lymphatic system in flushing out toxins and waste.
Cedarwood: This oil has an array of uses, from calming the nervous system to skin and hair care. Cedarwood is often added to sinus formulas because of its abilities to soothe nasal swelling and fight germs.
Eucalyptus: The scent of eucalyptus trees permeates the air with freshness, and eucalyptus essential oil creates the same effect...x10! Its natural affinity for the respiratory system can help address congestion, relieve headaches, and clear the nasal passages for quick relief.
Rosemary: The potent scent of rosemary is known for its ability to aid memory, but this multi-use oil is also helpful for calming inflammation of the sinuses. The volatile oils present in rosemary make it wonderful to add to a bath for easier breathing and enhanced relaxation.
Clary Sage: This oil is well known for its calming properties to the nervous system, but it is also a powerhouse for the sinuses. Clary sage may help relieve congestion and aid the immune system.
Lavender: Lavender oil is a first-aid superhero! Helpful for headaches, tension, cuts, burns, and sleep, it's also wonderful for easing the symptoms of seasonal aggravations.
Thyme: One of the best essential oils for immune health is thyme. It has a remarkable ability to fight infection and has a correspondence with the respiratory system as well. Diffusing this oil is a likely way to clear nasal obstruction and keep spring ailments at bay.
Balsam Fir: This oil has an especially nurturing scent that often reminds people of winter. Not only is this oil lovely to uplift the mood, but it can also alleviate sinus pressure and congestion and is perfect for steam inhaling.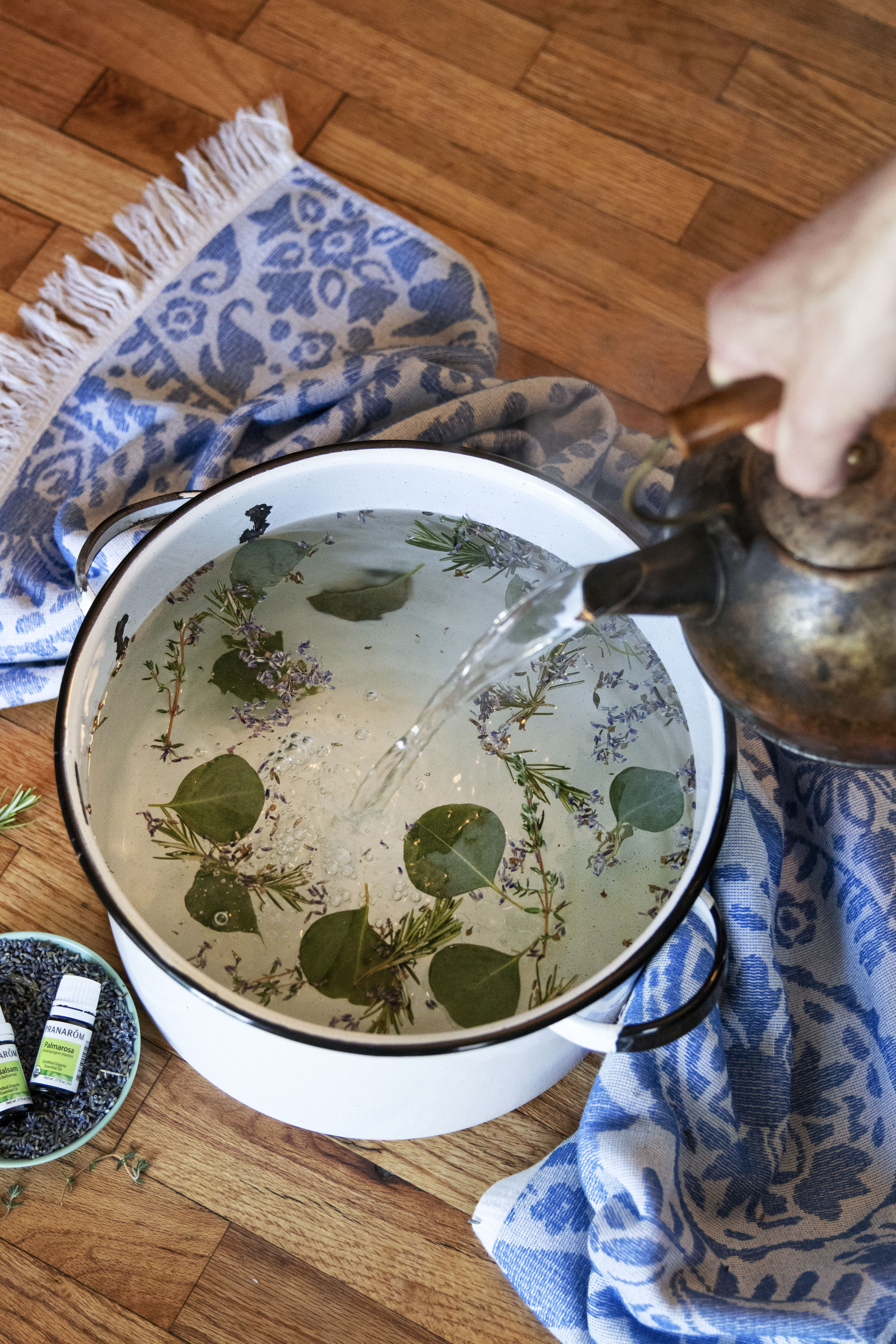 SINUS STEAM ESSENTIAL OIL BLEND RECIPE
Steam inhalation is a technique utilized to open the nasal passages, clear out mucus, and support the lungs. This process is also known as steam therapy and has been utilized for centuries to bring comfort to a stressed respiratory system. By boiling water, adding herbs and/or essential oils, and inhaling the vapors that arise, steam inhalation provides an array of benefits to alleviate seasonal discomfort.
Steam therapy can easily be done at home, and when you're finished, you will feel like you just went to the spa! Check out one of our favorite sinus steam blends below, or feel free to create your own blend from the list of oils above.
Ingredients
Directions
Heat water in a kettle or pot until steaming hot (if it boils, let it cool until it no longer bubbles).
Pour water into a heat-safe bowl.
Add essentials oils to water, drop by drop.
Lean over until your face is a few inches above the bowl and drape towel over your head to create a steam tent over the bowl.
Hold this position and deeply inhale the steam for 5 to 10 minutes.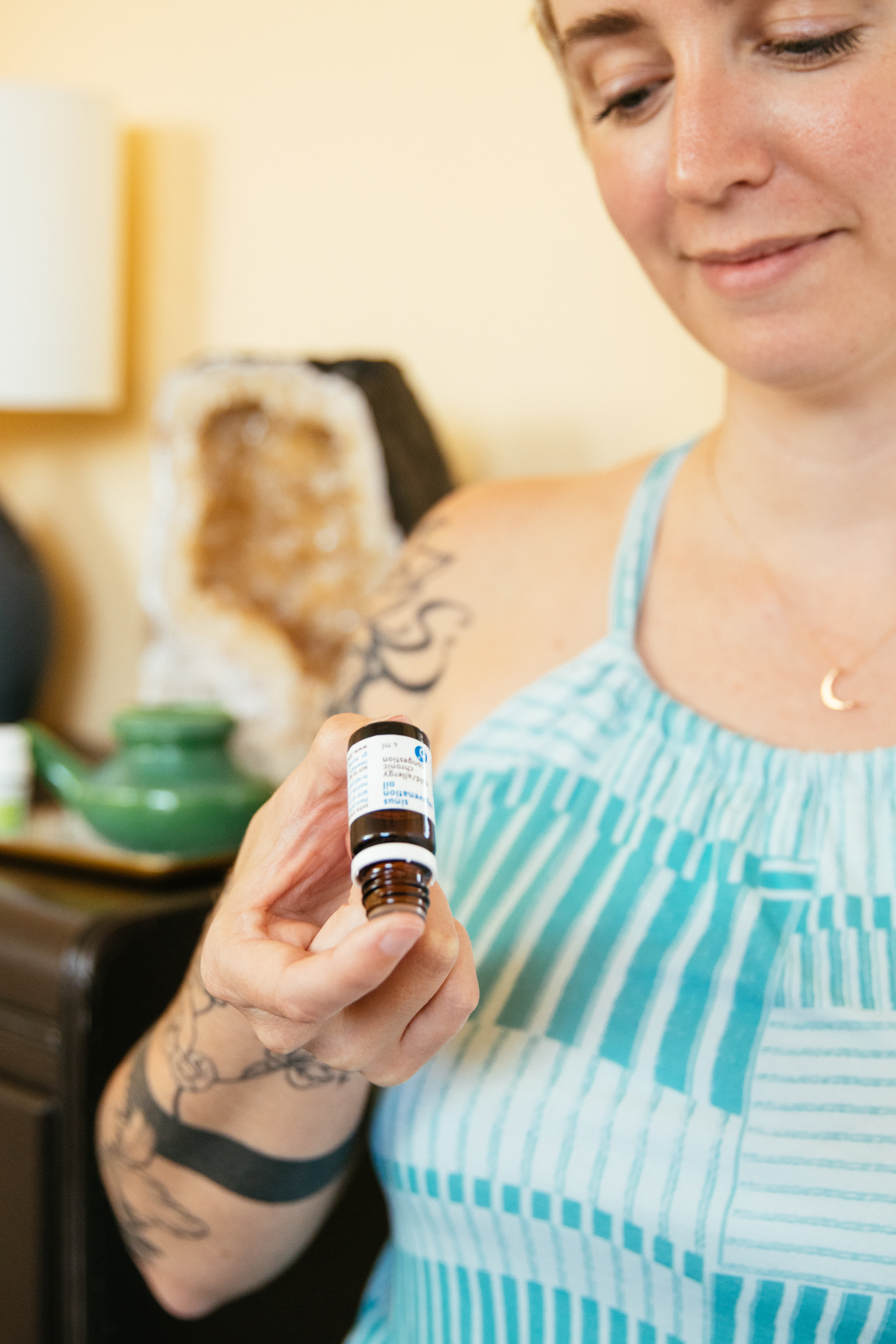 Sinus Health Remedies with Essential Oils
Individual essential oils can work wonders for upper respiratory support, but they can also be incorporated into classic formulations to offer synergistic sinus support. Here are three of our favorites:

When utilized properly, essential oils can be safe and natural tools for riding out seasonal sinus stress. Check out the selection of premium essential oils available in our shop, on sale as part of our April Allergy Season Sale (while supplies last!).
You might also enjoy:
Written by Jules Benefico: Jules is a Clinical Western Herbalist and the Online Marketing Content Creator at Five Flavors Herbs. She studies medical astrology, western alchemy, and clinical nutrition and infuses this into her herbal practice.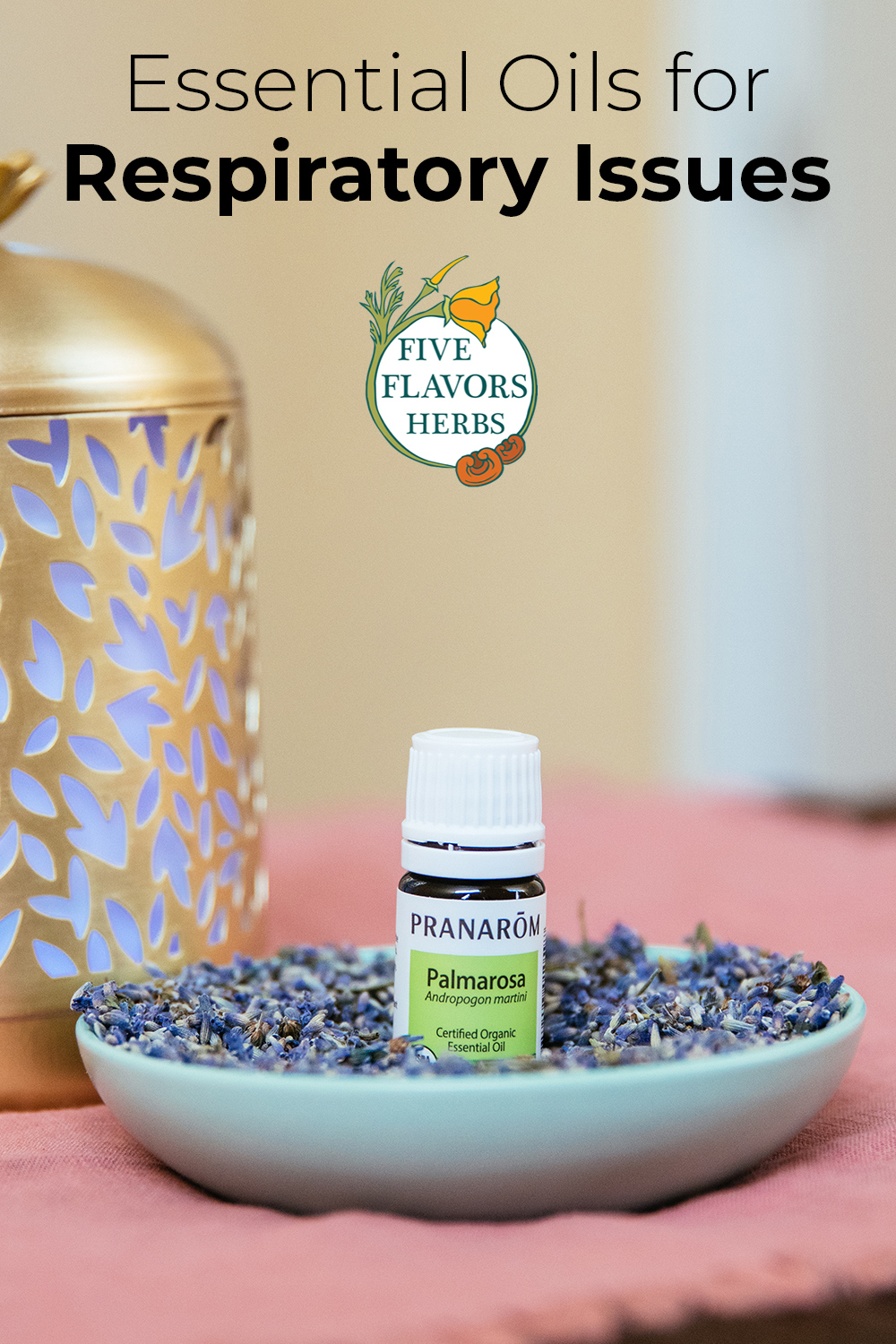 Sources:
Aromatherapy: A Lifetime Guide to Healing with Essential Oils by Valerie Gennari Cooksley
Aromatherapy for Health Professionals by Shirley Price and Len Price
The Aromatherapy Book by Jeanne Rose