Posted by Jules Benefico, Certified Clinical Herbalist on Jun 12th 2020
The Summer Solstice is the lightest and longest day of the year, as the sun is at its peak and Mother Nature is fully blossomed. This is a time of celebration of the light and also honoring that the darkness is soon returning. The herbs below are connected to Sun energy and can bring vitality, confidence, success, and happiness as well as help us celebrate this wheel of the year holiday.
Sun Energy & Herbs:
Herbs of the sun promote Vitality and Health and often they resemble the brightness of the Sun: Calendula, Chamomile, and St John's Wort are wonderful examples of herbs that flower bright yellow like the sun and are at their peak during the summer solstice! The Sun is correlated to the Heart, our solar center in medical astrology traditions and some Sun herbs have an affinity for the heart like Angelica.
Sun herbs bring equilibrium back into our lives and are tonics for overall health. Energetically they can bring us confidence and the courage to rise as our most authentic self. They help us shine as our brightest light! Working with them on the Summer Solstice is a powerful spell of double dipped magic!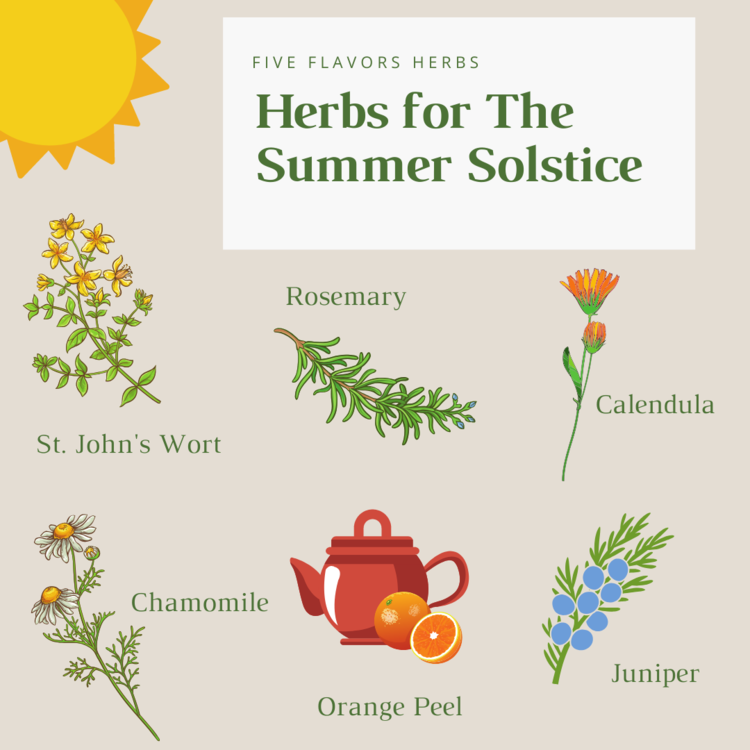 St John's Wort: This Solstice herb is at its flowering peak during this time! It is often used to dispel negativity and evil spirits, protect the home, and ward off illness. Medicinally Saint John's Wort is widely known for its uplifting and mood supportive quality. It has also been shown to relieve nerve pain, ease irritability & stress, and support proper immune function. St John's Wort can interact with some medications however it is safe to use topically as an oil or in homeopathic preparations.
Calendula: This herb is optimistic and full of vitality with her sunny yellow and orange flowers! Calendula attracts success in all matters especially for health. This plant brings light into our lives and often is used to bring comfort after a family member has passed. Medicinally Calendula is a skin superhero topically as well as internally to support an array of skin conditions as well as cuts, burns, and wounds. It can also be useful in many digestive conditions for its soothing inflammation modulating effects.
Chamomile: Has been worked with in folklore for herbal hand washing to attract money. In Egypt chamomile was a sacred incense for vitality and longevity of life, it is also one of the nine sacred herbs of the celts. If you put chamomile under your pillow it was traditionally used to drive nightmares away especially for children. Medicinally Chamomile can be supportive to sleep, stress, and is wonderful for gently soothing digestive upset & nausea.
Orange peel: Oranges have been known since ancient times for offering happiness, peace, and a feeling of well-being. People utilize orange for attracting positivity and vibrancy. Medicinally orange has an affinity for oral health and is great addition to an herbal mouth wash. It's carminative properties can ease gas and calm digestion overall.
Juniper: Juniper is a plant of vitality and exuberance! It is a symbol of fertility to the Syrian goddess Asherah and a symbol of angelic protection from the bible. Medicinally juniper is a stimulant, diuretic, carminative, and antimicrobial. It is often utilized for urinary system support and can aid digestive upset with its bitter quality.
Rosemary: In folklore this herb was placed in amulets for courage and confidence and the oil was and is still burned or diffused for memory and mental focus. Rosemary brings clarity to the mind and vivaciousness to the spirit! Medicinally Rosemary is full of volatile oils which give it such a potent scent and make it a great ally against infection. Rosemary is a circulatory and nervine stimulant and moves blood to the brain. It can be helpful in neurological conditions and can fight free radical damage in the brain.
Other mentionables: Sunflower, Celandine, Angelica, Frankincense, & Mistletoe
Sun Potion Recipe: Solstice Herbal Honey Elixir
Ingredients:
1 cup of fresh or dried herbs
1 quart of water
2 cups of honey
Brandy or Bourbon
Herbal Syrups are a tasty herbal treat! To make, choose a few herbs you would like and make a strong decoction by adding the roots and berries to the water and simmering this in a pot with a lid until it is cooked down to about half way. Then add the leaves and flowers and let that steep on low. This recipe is mainly flowers so it doesn't need to be steeped too long. Strain out the herbs and add the honey to the pot and cook it on low. When that is done add ¼ cup of brandy/bourbon for each cup of liquid that is left and you have a finished herbal syrup!
Solstice Intention Ritual:
Meditate on your solar intention- Whether it's for a personal goal or for one of collaboration. Sit with it and embody the energy of the Sun. Bright, shining, ecstatic, and full of life! Infuse this energy into the elixir for added potency!
Jules Benefico is a Clinical Western Herbalist and the Retail manager at Five Flavors Herbs. She studies medical astrology, western alchemy, and pagan traditions and infuses this into her herbal practice. The information in this blog is derived from western esoteric traditions. Sources include The Herbal Alchemist's Handbook by Karen Harrison, Evolutionary Herbalism by Sajah Popham, and The Magic of Flowers by Tess Whitehurst.